Cat Names Beginning With M
Cat names beginning with m sent in by other cat owners from around the world.
Mr. Squiggles
Because he loved to Wiggle and somersault, and we couldn't exactly call him Mr. Somersault, and Mr. Wiggles was too common.Also, he has stripes that look like squiggly lines. So, i have a cat called Mr. Squiggles
Maggie
I had a tree in my yard and it was a magnolia tree. That tree was tall. A couple of years later the tree had a terrible disease called carpenter ants, and it died. A man came and chopped down the tree and took it away. My mom was very sad because she loved that tree. It was her favorite tree. It was her favorite tree because it blossomed beautiful leaves and flowers. Now her favorite tree is the tree on the side where the gate to my backyard is. My dad was very happy that the tree died, because he hated that tree. He hated it because he always had to clean up the mess of leaves that the tree made. We had a cat, we didn't know what to name the cat. My mom said "I have an idea on what to name the cat. Since that tree is gone why don't we name the cat Maggie, short for magnolia." My dad did not agree "WHY SHOULD WE NAME THE CAT SOMETHING I DON'T LIKE!" My dad shouted. My mom was mad she wanted the cats name to be Maggie "OK LET'S HEAR YOUR BETTER CAT NAME!" my mom shouted. My dad didn't know what to say so then he agreed to name the cat Maggie so he said calmly "You win we get to name the cat Maggie" And, so, that"s how my cat got her name
Maizy Elwood
by rebecca (pittsburgh)
She was named Maizy because of my favorite movies : Uncle Buck (the little girls name is Maizy) and Blues Brothers (Elwood Blues). Shes a little bit sweet and a lot of outlaw rhythm and blues. 

if you could, please add the website http://bogeysblogsphere.wordpress.com/ 
this is a blog that has a cat name contest on it - going on until march - the winner receives 2 free cat bowls personalized with the winning kittys name on it!

Marble
by Roxanne (St Johns, NL)
He had eyes , like marbles, big & round.

Comment from Kate
i love this name and I don't think I have come across a cat with this name before, so its rather unique too. :)
Mario
by Elizabeth (Delaware,OH)
When my children found him on the side of a road abandonded they thought he was a she and they named her Maria, but a visit to the vet proved Maria to be Mario, and the vet nicknamed him Super Mario which is funny because he was only 4 weeks old and had black hair sticking out all over his little body!
Marmalade
by Marion (Kent)
Because he is orange colour like the preserve.

Comment from Kate
I used to know a cat called marmalade. he was a big friendly stray who would come around calling every day to see if there were any tidbits of food going. He was a lovely cat and could have had a home with us if he had wanted it. But he was a wanderer and one day we just didn't see him any more.
Marvin
by Bethan (Hampshire, UK)
Named after the paranoid andriod from Hitchhikers Guide to the Galaxy. Just because hes always paranoid!
Maverick
by Cheryl (Traverse City)
Kids loved TopGun.
Max and Ruby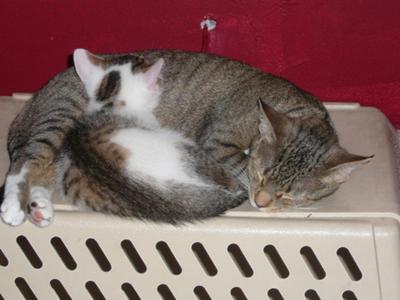 by Sue B. (Philadelphia, PA)
My female cat Ruby had three kittens last year. I kept the male and a kid I babysit named him Max for the Nick Jr. show.
Memo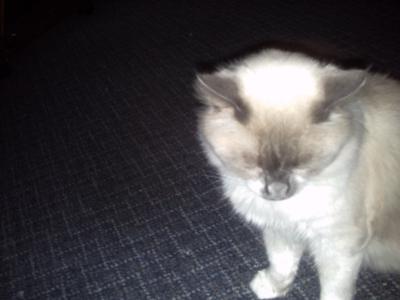 When I got my cat Memo, he was small and cuddly and SO CUTE. and Memo sounded small and cuddly and cute TOO. So I named him that and now... he is GINORMAS and cuddly and cute.

The name Memo sounds so cute and harmless. Like Nemo but not a fish... and with an 'M'.
Millie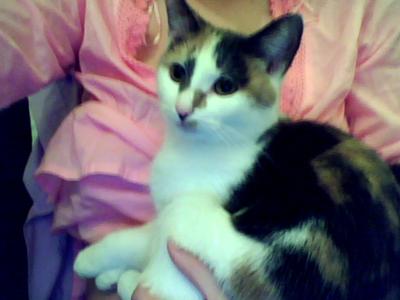 by Rachel (Luton)
How we named her and how we thought she suited being our little Millie...

It seemed rather delicate and ladylike, and even though she can be a little lioness when at home with mummy and daddy, she's really a very shy and nervous little girl with most people. Shes scared easily, she's very pretty, shes a total diva, and very ladylike. She's pretty and she acts like she knows it at all times :D
Mimzy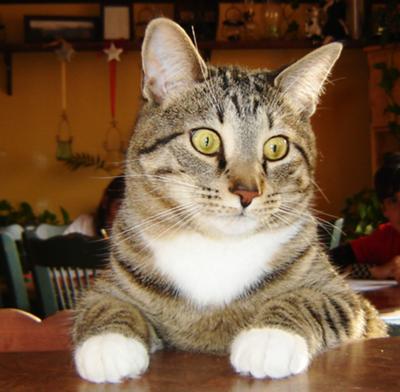 by anne vandenyssel (montreal,qc)
From the movie"the last Mimzy". I believe that my mimzy is just as special,and one of a kind.
Mishka
by Staci Morrow (Diamond Bar, CA 91765)
Mishka = Little Bear (Russian)

She looked and felt so cuddly the first time I saw her and that was over 20 years ago.

Mishka - Dark Grey Light Grey and White

Austin Powers - White with Orange Tipped Ears and Tail
Miss kitty
by timothy taylor (dallas texas)
the name miss kitty is from the tv show gunsmoke .i rescued miss kitty from a garbage dump .someone had throw her away . i had just got sober from 20 year's ofdrinking and found myself living at a motel . she was good company and helped me stay sober. i got sober in 1998 and still am sober today 2010 . i suggest to people just getting of drugs and booze after 6 months of sobiety shoud get a pet its good resposibility taking care of it .i just happen to like cats . to day i still have miss kitty but now she has a daugther i call her kitten that's what she responds to . we all are one happy family . thanks tim .
Missy
by K.J. (FL)
Because she is missing a tail... and she is mischievous.
Misty Mae
Misty is a Russian Blue mix. She just turned 14 years old this month. She's a cat from my childhood that survived into my adult years. Why I chose her name is because her name was in my favorite cat book titled Misty and Me.

Reply
Love her coloring, so rich and luxurious
Misu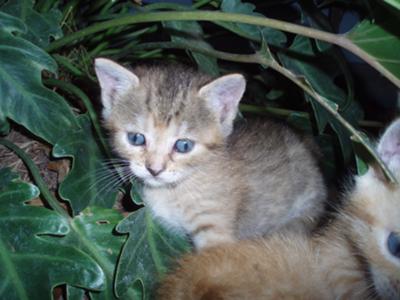 by Judy (Orlando, FL , USA)
I had a childhood friend who named hers Mesoul. My friend passed away when we were 19. I just kind of made my own version to remember my BFF.
Mitzi
by sarah (England)
Named because she's fast like a mitzubishi racing car. She's 2 years old and half bengal, in this shot she was pregnant we did'nt know she was pregnant when we bought her, I will post a picture of her with her kittens.
Moe
by Michelle (Los Angeles, CA, USA)
That was already his name when he was adopted. I call him Spawn too. He's a baddie.
Moocher
by Michelle (San Francisco, California)
He showed up one day and I found him eating the feral cats' food. I said to him, "hey what are you doin' moochin' off the other cats' food?" He was pretty tame and decided to permanently adopt us, and his name stuck.
Moo Moo
Our female cat is white with black patches, my husbands' first choice was to call her Gateway, as he thought she looked like the computer system. Since she looks more like a cow, we settled on Moo Moo or Missy Moo when we are being affectionate with her. We can only imagine the looks we get when she is outside and we are calling her to come in.

comment
love it and yes i bet you do get some looks :) But a great cats name never the less.
Muffin - Muffy for short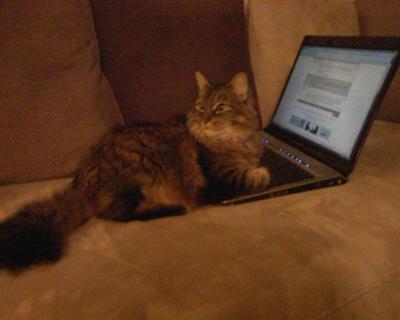 by Pamela (Hinesville, GA)
When we adopted her from her owner of 5 years, he told us that her name was Muffin. We decided to keep the name because it was truly befitting. She IS a Muffin Top which is defined in the Urban Dictionary as: fat fatty overweight chunky love handles plumper fat chick whale muffin tubby junk in the trunk...WE LOVE MUFFIN and calls her Muffy for short!
---
---
I'd love to hear what you think of this page or my site. Let me know if you like what you have read or if it has helped you with a problem.
It's easy to do just leave a comment in the box below and click the like / share or +1 to let others know about my site. Thank You It really is most appreciated.