Cat Names Beginning With N
Find cat names beginning with the letter N. These are are real names belonging to real cats around the world. Hopefully they will inspire you to find the perfect name for your pet.
Natasha or Tasha
My husband suggested it after watching the first season of Star Trek TNG. It just sort of stuck.
Naya
by Stacey (esk,QLD, australia)
Naya is our 6 month old persian cross. She is adorable. Naya was named after my neice Tanaya (both of them are little cuties) and the name suits both of them very well. Its also nice and short and when called out to she comes running, She has a few nicknames to like princess, baby girl, nay and nay nay.
Nelly
by Morgan, Brisbane, Australia (Brisbane, Australia )
because she was a light colour and i just liked the name for her.

Comment
I like the name Nelly too, its quite an old fashioned name and you don't hear it much these days. I have a soft spot for the name as it was one of my nans sisters name and i remember going there as a very small child.
Nermal My Cat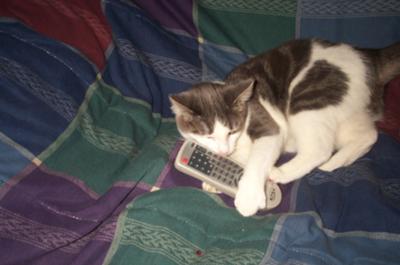 by Ryan McReynolds (Birch Run, Michigan, USA)
I named her after the cat that Garfield tries to ship to Abu Dhabi on the Garfield cartoons.

Her name suits her perfectly too since Nermal from the cartoon is grey whereas my Nermal is grey and white.

The cartoon Nermal chased a fly and my Nermal loves to chase bugs including of course flies LOL.

My Nermal was pretty playful as a kitten, well she is sometimes playful now too LOL.

Comment from kate
I was and am a big fan of garfield and used to love to buy the cartoon books. Thats where I first came across Nermal. 

Nermal is portrayed as a sickly sweet cat that is just too cute for Garfield to bare and like you say he is constantly trying to get rid of. However my guess is that your nermal is just cute and not overly sickly sweet.

I think Nermal is a great name for a cat, I wonder where the cartoon drawer got it from as I have never come across it before. Perhaps its just because it sounds cute when you say it.

Thank you for telling us about your cat Nermal and I love the picture too.

Kate
Nermal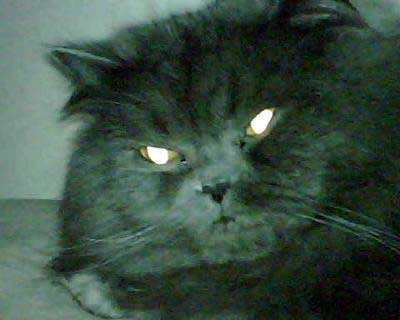 by Shannon (Midvale, UT, USA)
He looks just like Garfields cousin. Grey and fluffy and oh so cute!
Nero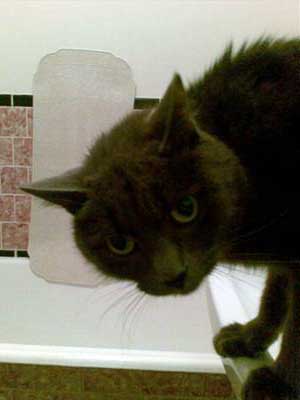 by Anna (Iceland)
He was named after a Roman Emperor. Though said emperor was a bit insane, the name fit our boy. They were masters of their lands.
Nester
I gave my cat this name because he is a really weird cat and the name just suits him!

Note from Kate site owner
tell us more, why is he weird?
Newt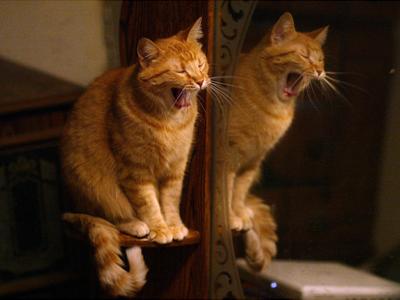 Newt was a barn kitten. We were told the cat was a boy, and because we both loved the "Lonesome Dove" series and the Newt character (played by Rick Schroeder sp) particularly, we named him Newt. Soon we learned that he was a she, and Newt kept the name because we also really liked the movie "Aliens" and in particular the brave little survivor who bonded with Sigourney Weaver's character, Ripley.
Nibbles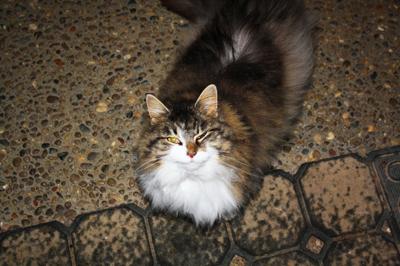 by Lauren Voyles (Indiana)
In July of 2008, a stray cat tortoiseshell calico, who we later named Lola, showed up on the porch. She became our outside cat and we started putting food out for her. The food attracted the attention of a small, verrrry fluffy kitten. One thing I soon noticed about her is that she liked to bite. Any time she got a chance, she'd be nibbling on your fingers or toes. That's how I came up with her name, Nibbles :)

She is 3 and a half years old or so, and she will still bite your finger occasionally if she feels like playing.

I don't know what happened when she was younger, but she has a permanent squint. It kind of makes her look like a pirate. She is also very, very, very fluffy in the winter. As summer rolls around, she starts losing fur in clumps and transforms to a regular long-haired tabby.
Comment

What a lovely looking cat even with his slight squint. I love long haired cats like this it reminds me of my old cat Tigger who was a great big Maine Coon. He was so gentle and cuddly.

The fact that your cat nibbles fingers is a sign that she never really learnt as a very young cat not to bite when she is playing. They normally learn that in the first weeks of life from their mother an also from any people around at the time. Stray cats often don't have this and so they do tend to bite in play. 

Thank you for sharing your cats story with us and yes Nibbles is a good name for a cat who like to nibble fingers. At least other people will get a inkling of her biting habit when they meet her from her name.
Nibs
by Nibs (Baton Rouge, La)
We named him this because he like to chew on alot of stuff and has yet to grow out of it. He just made a year.
Noah
by Anthony (Queens, NY USA)
I adopted the cat with this name and we thought it was a good name for him so we kept it.
Nobbie
by alison (cheshire england)
He is a siamese seal point and we were joking about strange names for children and talked about Nobbie as a name then when we first went to see him he kept hitting his little head on the bottom of the table and had a couple of bumps on his head so he became Nobbie
Noodles
well he was a bit of a guts when we got him so we decided to feed him all sorts of things because the previous cat we had at chicken twisties so i came up with this crazy idea to let him try a couple of cold cooked noodles and he loved them and he was begging us for more so we cvalled him noodles.
Nutmeg
by kim (NY, NY)
she's the perfect blend of black a light brown with a little white. we had a black cat named pepper so we continued with spice names... and she is a little nutty too!!!!
Nutsy
by Jeane (MS, USA)
My husband changed the name from Sydney to Nutsy because of the Walt Disney cartoon character on Robin Hood.
---
I'd love to hear what you think of this page or my site. Let me know if you like what you have read or if it has helped you with a problem.
It's easy to do just leave a comment in the box below and click the like / share or +1 to let others know about my site. Thank You It really is most appreciated.