Cat Names Beginning With O
These cat names all belong to real cats and have been sent in by their owners. find out why these names suited the cats personality, it may help you decide on the right name for your pet.
Oliver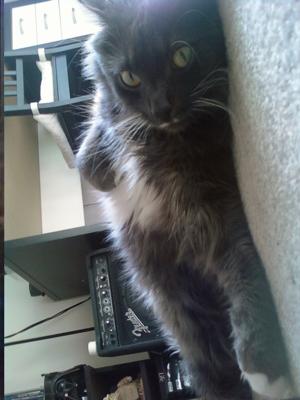 by Catherine Nest (Canada)
He came from a shelter during the winter time. I named him after Oliver Twist. Who came from the slums and was accepted in a sweet and loving home
Oliver Our Cat
by stephanie (marion, arkansas)
From the movie "oliver and company'

Comment from Kate
I love his little crossed over paws and the happy contented look on his face. i only hope he realizes just how close to the edge of the bed he is :)
Om
Om is thought to be the first universal sound made, according to Indians. We named our little Persian kitten that because he's so noisy and makes a lot of sound. It was also simple, and his nickname is Omi, which we all thought was adorable.

Comment from Kate
I like it. This is also the sound many people make when meditating. Do you feel chilled out every time you call her :)

It also has a slight regal feel to it too, which I would think suits a Persian cat very well.
O'Malley 
by Terry (Pennsylvania)
I got the name after the priest that Henry Fonda played in Bells of St. Mary. Father O'Malley. There was a scene where he was addressing the nuns where mischievious kittens are playing behind him on a mantle and distracting the nuns. I love that scene.
Onyx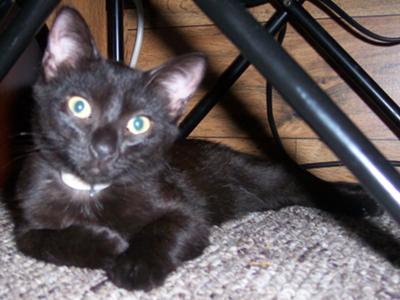 by Angel (Lima, Ohio)
Onyx is a black gem stone, so when we found an all black stray we named her Onyx. It would be like naming a white cat pearl or something. This name works for a boy or girl cat as unbeknown to us, some friends have a boy cat named Onyx.
Opal
by Susie (charleston, sc)
We named her after our town's mayor! We call her Toasty most of the time because of an incident where she attacked my glass of wine.
Opalina
by jennifer (enfield, ct, usa)
The name Opalina is from a childrens' book about a white cat. 
The 9 Lives of Opalina.
She haunted her owners' house for many generations and was the guardian of the families there.
Ophelia
My kitty had a tragic, whining meow, so I named her after Ophelia from Hamlet.
Opie
by Megan (CA)
On the Andy Griffith Show there is the boy Opie, he has orangish red hair and freckles all over his face. So if you have a orange tabby you can name him Opie.
Oreo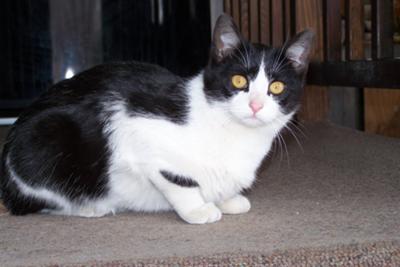 by Morgan (US)
My Family and I Named Our Cat Oreo Because She Has a black head, a white neck, and a black back!!!! And she looks just like an Oreo
Oscar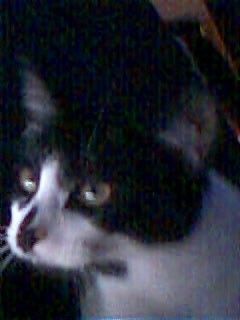 by Lindsay (U.S.A. MI )
cause I like it.
Otis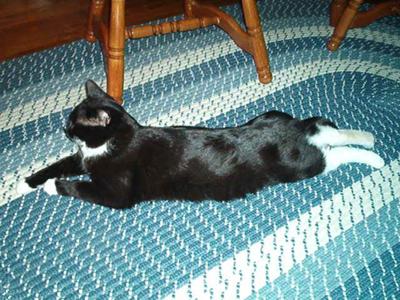 by Sarah (WI)
I named my boy cat otis because i thought it was a catchy name haha! and it was opposite or melo and otis which i liked and he loves his name very much he comes to kitty, otis, and cat which is a good thing incase he would ever get lost!

comment by kate
what a glossy looking coat he has. he looks like a very happy and contented cat to me. thanks for sharing him with us. :)
---
---
---
I'd love to hear what you think of this page or my site. Let me know if you like what you have read or if it has helped you with a problem.
It's easy to do just leave a comment in the box below and click the like / share or +1 to let others know about my site. Thank You It really is most appreciated.