Cat Names Beginning With 
These are real cat names sent in by other cat lovers from around the world. Find out why they chose these names for their cats. Hope you find your perfect name too.
Rajah
by Kim, (Saint Louis, MO, USA)
I named my cat after the tiger in the Disney movie Aladdin because she was sweet and loyal and walked with a regal swank....just like my baby.... :).

comment by kate
Gorgeous name for a cat and so majestic too. I bet she lives up to her name as well, with a royal strut.
Rascal
by Heidi (Missouri)
In every essence of the name, it fits my baby. She's moody, one minute she'll want to cuddle, the next she's running around like a chicken with its head cut off and the next she's chilling out in the window chirping at squirrels.

Comment from Kate
I like the name very much but have only ever known boy cats called rascal. So a little girl kitty called this must be a little rascal to warrant the name. She looks full of fun.
Rascal
by Tayler (usa)
Because when we firt got him he was running under the bed jumping on top of the bed and daddy said get over here you little rascal.
Ravana
by Kevin Johnson (Trail, BC Canada)
Ravana is 8 weeks old here and is getting on well with his older buddy Simba.
Ravana is the name of the Indian king of Rakshasas (demons) who lived in and ruled Sri Lanka and Southern India.
Ravana more than lives up to his name as a little terror, in fact he's climbing my leg as I write this. Although he was shy around his much bigger friend Simba, the next morning I woke with them sleeping together. It's been two weeks and they like each other very much.
Raven
by TAMARA ( BADARO, Lebanon)
I named my cat raven because it's black and it is very fluffy and cut it has blue eyes , gray and white stripes and it looks like a tiger . 

Comment from KAte
Would have loved to see a picture of your Tiger kitty. I love stripy cats, everyone is slightly different in their markings.

I have ha several tabby cats in my life and never thought of naming them Tiger, how silly am I?
Rebel
by Susie (NYC)
Because he was born on the fourth of July! and he was a wild little critter in the litter!
Red Cat
by sam (ny)
shes a red cat.
Reggie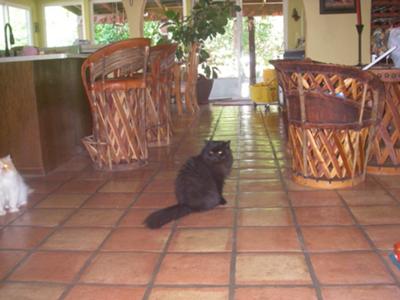 by Sherie Dempsey (Apache Junction, AZ)
Our cat is named Reggie. We were having the most difficult time trying to decide on a name that was a good fit. After a couple days our son suggested Reggie and we went with it. She was a little jet black ball of fur that would fit in one hand. Her big eyes were copper and she was the most beautiful creature. We fell in love with her immediately. When she was 4 months old we took her to the vet to get spayed. After the vet made the incision to spay her we got a phone call from a most horrified vet that Reggie was a HE and not a she. So the poor little guy when from being a girl to a boy to a neutered male in one sygerical secession. HE is a persian who was given to us from a breeder.
The name Reggie could pass as a female or males name. That was a good thing. Reggie is now 9 years old. He is a December kitty. He follows me around the house and sleeps with me part of the night, then on the cat tree, and roams the house as well. He is strikley an indoor cat as we live in the country and have many different animals that would make a good meal out of him. When we have a group of people over we keep him in our bedroom with all the comforts he could want. He is protected from someone who might leave the screen door open. He is totally spoiled. My mother is our kitty sitter should we leave on a trip. She too adores Reggie. It would be hard to leave him without her loving him. Recently I found this site while searching for a question I had. He was diagnoised with asthma in December 2010. He received a steriod shot and our vet said he will have to have one every six months to a year. If he got bad enough he would need a mask (sort of like humans do). He is doing well as I type this. Then in January we noticed he was having a difficult time moving his back legs. The next day we were gone all day. Of course it was on a Sunday.
When we got home he could hardly walk. It was late and since he did not seem to be in pain while resting we did not take him into emergency. We also new the vet had recent x-rays. I was worried sick about him. I stayed up the entire night without sleeping at all. Our vet opens at 8 AM. I called at 7:15 AM. I was thrilled when someone answered the phone. The doctor was in surgery, but the gal on the phone pulled some strings and got us in an appointment 8:30 AM. We all took a look at the x-ray that was taken a couple weeks ago and our vet said he did have some arthritis in his hind legs. He was also a bit constipated. Probably due to the fact he was not comfortable in that position while trying to go. We were sent home with Prednisolone which was to be administered over two months decreasing the dosage along the way. He also was given a shot of Adaquan. We were sent home with 8 more shots to be injected every 4 days and then reduced to one per month. When we first got home with him he had trouble urinating properly. It stuck to his legs and he smelled awful.
We tried to clean him with the waterless shampoo. It helped but that smell was still there. I ran around the house for two days cleaning everything he got near. We have a leather sofa and tile floors through out the house so the cleaning process was a lot easier than most would have. We decided to take him back to the vet. The smell was bad. The vet said he it might take a few days for the medicine to kick in. She had her assistant shave his fur around the area. We decided the next morning to follow the vet's advice and bathe him in Dawn. Our worry was hurting his hind end. My husband held him while I washed his lower body and then we dipped him in another sink to rinse him off. What a relief. I expected that he would fight us. Our biggest fear was he might twist himself and really get hurt. He smelled so much better and he also felt better. He no longer urniated on himself and our problem was solved. I'm glad to report he is fine now. He is a long haired cat.
I am very careful when I brush him in this area. When I get up in the morning he sits on a chair next to my computer and keeps me company while I check my email. Then he will walk off to his napping spot in my husbands closet (he can't fit into mine). As I am finishing Reggies this story he is sitting in his chair next to me sleeping. We love him deeply. We have been told by a few people if they every died and came back to earth they would want to be one of our cats. We have had other cats before Reggie that we loved and lost. It is almost certain we will loose him too in our lifetime, but until that time he will continue to be spoiled and we will contine to love and enjoy him each day.
Reiner
by Ashley (Denver, CO, U.S)
I show horses in an event called reining. I found my stray cat wondering around outside my hotel at a reining show. So I named her "Reiner", it was just meant to be!
Ripple
by Sue (Ontario, Canada)
When we first brought her home as a kitten, her colouring reminded me of what a tub of Butterscotch Ripple ice cream looks like when you take the lid off. So, Ripple she became. We also call her "Ripple Bear" and "Mama" (because she had kittens a number of years ago).
Robbie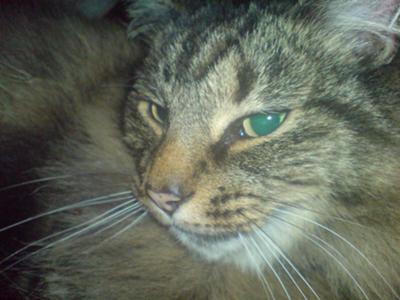 i got robbie in 2000 and named him after my favourite singer at the time robbie williams xxx
Rocket
by Emma (UK)
because by the time the rest of the litter was just walking he was dashing around all over the place!
Romeo
by Mone't (Kentucky)
With his unique markings, I HAD to give him an awesome name, so Romeo it was!! Then my brother adopted him from me and re-named him "Patch". (How boring!!) He will always be Romeo to me! Can you see why??
Rory
by Joyce (Cleveland, OH)
Rory is Gaelic for the Red King. Since our cat thinks he is the king of the house and is an orange tabby, it seemed to fit.
Rosco
by Tazzman69 (Tigard)
Rosco was a tabby cat, but he acted alot like "Roscoe Pico Train" in the TV show dukes of hazzard. He was bright, but stupid, knew right from wrong, and was absolutely trusting of anyone he met. (RIP Rosco - he was taken by old age several years ago)
Rosie
by Megan (Kenmore, New York)
I named my cat Rosie because she is beautiful, playful and is very sweet to me she even loves to laydown with me too so she deserved a beautiful name thats why I named my cat Rosie.
Roxie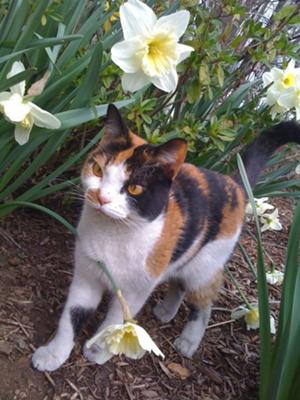 by Darien (NJ, USA)
She is a little tom boy but still has a girlish side. Cat names like this can be for a boy or a girl.
Rufus
by Chrisha (San Antonio,TX)
He is an adorable all white Siberian. Who would give a cute feline a dog name? My boyfriend, who is a dog lover ... plus he said it was original.
Rune
by Khali Purdy (Myrtle Beach, SC, USA)
I wanted a kitten name that was mystical sounding and if I am incorrect in sex of the cat, one that could go for male or female.
Rusty 
by Christie (Calgary Alberta Canada)
This name was given to my cat when I got him. I adopted him from a local shelter.

Comment from Kate
What a face, i think the name suits him perfectly. you can see his wonderful character in that face can't you.
---
---
---
I'd love to hear what you think of this page or my site. Let me know if you like what you have read or if it has helped you with a problem.
It's easy to do just leave a comment in the box below and click the like / share or +1 to let others know about my site. Thank You It really is most appreciated.