Cat Photos For Tom
Cat photos page for my cat Tom. My name is Stacy and This is my cat.
Age: 8
Lives in: Hervey Bay/Toogoom, Australia 
His favourite food is: .
Tom loves the horses Molasses...(when he sneaks it)& Fresh Chicken Mince...
This is what I like doing the best:
Tom just loves to take a ride on the back of the ute or in the car, & sleeping in the most awkward places...
His funny habits are:
He loves to help our dog's round up the cattle, & follow's us on our horses for rides through the bush. He dosn't mind leaping out & taking a swipe at your ankle or sinking his teeth into your foot as you un suspectingly walk by...He play's soccer with my son Reece, pushes the ball with his fat head, chases after Reece for the ball...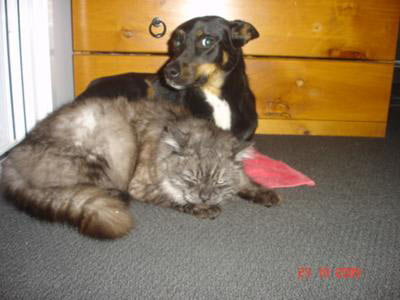 How I found my cat:
Tom wandered in to our old farm house about seven & a half years ago, & just never left! We advertised & posted found signs around but no one came to claim him, so as he made himself so at home with us we kept him...& we love him very much!
Tom is my best mate,He is just under 9kg's & is not much smaller than my kelpie dog. He follow's me when im riding my horse & helps to round up the cattle on the farm, he loves to ride on the back of the ute with the dog's to. Tom loves attention when he decides "he" needs it, other wise he will ignore you Or walk away. At bed time he jumps on my bed grabs my hair in his mouth & kneeds away at my hair & pillow, this is the only time i have herd Tom purr!
Tom has attitude, that's my favourite bit about him! Tom is the boss of the house, our dogs, cow's & horses all do what Tom wants, or Tom get's them!
Not happy Jan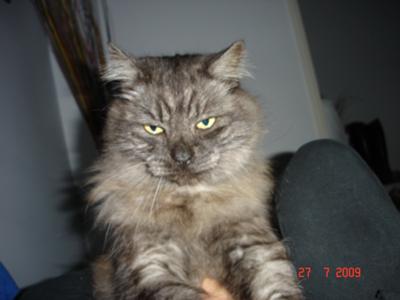 Mmm, Tom's not impressed with all the pic's i take of him!
Tom, has issues with electrical appliances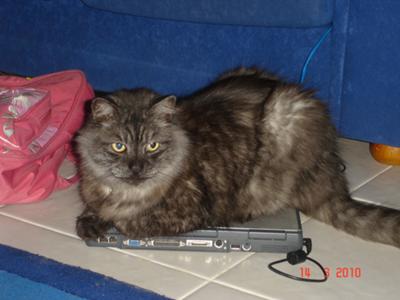 Mine, all mine...Tom: Has a thing with sleeping on electrical appliances, be it the microwave, tv, or the laptop as in this pic, Tom being so fluffy is always full of static electricity & quite often zaps us when we pat him. Im thinking that when tom put's himself on any electrical item in our home it de-static's him, i think this as after he has been on it for a while we don't get a zap off him when we toutch him...then again Tom chooses the strangest places for a rest or a good old sleep! I LOVE YOU TOM...
Our Cat Tom...at the farm...by Stacy lee 
(Toogoom/Hervey Bay, QLD, Australia.) 
Im a handsome fella...This is Tom's shelf at our back door, Tom meow's very loudly through the window to get our attention, be it for his feed time or to just show us the trophy he has caught on our farm, could be anything from a mouse, rat or even a big brown snake! Tom is alway's very proud of his catch & insists on bringing it up onto the shelf for us to see!

Comment by Kate
he certainly looks proud to be there on his shelf. I love his eyes, so expressive. :)
Tom's Kitchen Overhead Cupboards...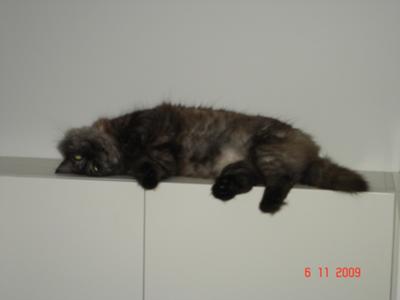 This is Tom's place of peace & quite, away from his little brother Alvin. Tom spends most of his day sleeping up here...

Comment by kate
It's funny I know lots of cats that like to sleep on top of the kitchen cabinets. i think your right, it's out of the way and quiet.
---
Top of this cat photos for Tom page
---
I'd love to hear what you think of this page or my site. Let me know if you like what you have read or if it has helped you with a problem.
It's easy to do just leave a comment in the box below and click the like / share or +1 to let others know about my site. Thank You It really is most appreciated.