Cat Photos For
Tommy Snow's Happy Cat Page
My name is Mary and this is my cat photos page for my cat Tommy Snow. Who is Tommy Snow, let me tell you about him.
Name: Tommy Snow
Sex: Male
Age: he is 5 at the time of writing.
Lives in: Asheboro, Nc, USA
His favourite food is: He loves 9 Lives Daily Essentials and any kind of wet canned food.
This is what I like doing the best: Sitting on your lap nuzzling your face with his cheeks.
His funny habits are: He dosn't really have any
How I found my cat: I rescued him in a Blizzard in Michigan in 2007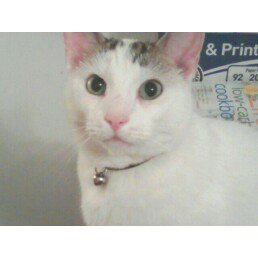 Diary Entry
Hello fellow Cats and cat lovers
My name is Tommy snow and I am a very lucky cat and rather handsome too, don't ya think? I was rescued from a terrible blizzard in Michigan a few years ago.
I was homeless and cold and hungry.
I crawled up into a semi truck engine that was parked at a truck stop.
The engine was warm and I was very cold.
Before the truck driver started the truck up to leave he did a safety check of the engine and found me sleeping there trying to stay warm.

He called a local woman who was a cat rescuer and she came out in the raging blizzard and 5 degree temperatures and picked me up.
I was so scared but I was glad to be going some place warm where I would get food and love.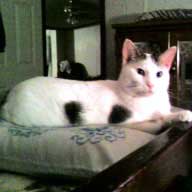 I never had a name before but she named me TOMMY SNOW.
TOMMY, because I was a un-neutered male tom cat, and SNOW because I was rescued in a Snow blizzard. Great name huh?

That lady who rescued me was my hero and I grew to love her quickly.
She kept me and made me a part of a loving, forever home and I still live there today along with my other feline house cats who are all rescues.

I look out the window everyday and see other cats roaming the street, looking for food and shelter and I feel bad for them.
I remember those days where food was hard to find and shelter was scarce.
I don't miss those days at all.
I am a strictly INDOOR ONLY cat and you may think that's not fair to me but I know all too well the dangers of going outdoors.
Other cats jump on you and fight and injure you. Other animals spread deadly disease and there is nobody to cuddle and love you.
So I don't miss being outdoors at all.
I am SAFE and secure and LOVED inside my wonderful home.
I get regular food, and water and when I feel sick , I go to a great Vet who takes good care of me. Most of all, my human caretaker LOVES ME and will never let anything bad happen to me.
So, yes, I am a lucky, LOVED Cat!
Life is good and I Am grateful.
Thank God there are people out there devoted to giving homeless cats a new life.

Until next time
MEOW

TOMMY SNOW
Comment
Tommy Snows cat photos Diary 
by: Tracy 

I just love your story! You are so wonderful for rescueing Tommy and all the other kitties. I have 2 tiger tabbies that my husband rescued from outside as well. I feed all the stray and feral kitties. If I had a house I would take them all in. Unfortunately I live in a small 1 bedroom apt. right now, but I do what I can. Bootsie is a male cat and he is 3 and Bonnie is 1 year old and a fenale. Bootsie adores Bonnie and when we first got her he acted like a MAMA kitty.I spend a small fortune feeding all the outdoor kitties, but I love them all and if I won the lotto I would open a kitty rescue. Thank you for sharing your story and thank you for being a wonderful kitty rescuer!
Top of this Cat Photos Tommy Snow Page
---
I'd love to hear what you think of this page or my site. Let me know if you like what you have read or if it has helped you with a problem.
It's easy to do just leave a comment in the box below and click the like / share or +1 to let others know about my site. Thank You It really is most appreciated.