cat suddenly agressive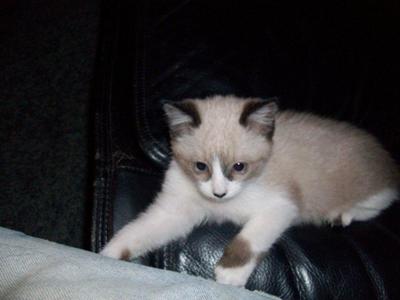 teeny toya
i took in a stray kitten 9 months ago and she was wonderful and loving. she has had all of her vacinations and has been spayed and declared healthy. in the last couple of months she has become increasingly agressive. I thought it was cat play at first and would put her in a quite place to calm down, but now she wont allow it and hisses at me and will attack me when i am sitting or even sleeping!


is it just cat play and she needs corrective training? or isthere a real problem? its getting worse and i dont think i can keep her if it gets any worse! she has bitten me a few times(lightly) and broke the skin and i am at a loss as to how to correct this behavior. can you help???
Reply
Hi
yes sounds to be like she hasn't learned the boundaries of play yet.
a cats natural play instinct is similar to hunting and chasing. So yes biting and leaping on are two classic signs of play. but when a cat gets over excited this can become a problem.
It could be that she does not have enough to keep her natural instincts stimulated. Cats needs lots of different types of toys etc to keep their attention and focus. If they don't have this then they seek out their own fun and games and it sounds like your cat has chosen you.
There are two things you need to try.
firstly introduce some new toys and games into her world.
https://www.our-happy-cat.com/cat-toys.html
Also practice the cat discipline technique described here
https://www.our-happy-cat.com/cat-discipline.html
If all else fails she may need some temporary calming down using cat sprays or medicines. you can find out more about these here
scared-cat.html
best wishes kate
---
I'd love to hear what you think of this page or my site. Let me know if you like what you have read or if it has helped you with a problem.
It's easy to do just leave a comment in the box below and click the like / share or +1 to let others know about my site. Thank You It really is most appreciated.