cats fighting after vet visit
I have two male cats that have been together for 10 yr. Took one to the vet for a check up, now they fight. The one that didn't go to the vet attacks the other one. We have kept them separated now for three week, doesn't seem to help.


Reply
Hi
Don't worry this is a common problem. It is called aggression truama and is a strange behavior which is caused by some event which frightens a cat and they take this fear out on another pet in the home.
The cat that went to the vets probably smells different or may be acting differently and this has frightened the other cat hence the aggression.
Normally the behavior calms down after a day or so but in some cases a little extra help is required and you will need to help the cats rebuild their confidence in each other using the introduction method described on this page. It does take a little time and effort but is helpful in the long rub. Here is my page
cat-aggression-trauma.html
best wishes kate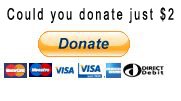 ---
I'd love to hear what you think of this page or my site. Let me know if you like what you have read or if it has helped you with a problem.
It's easy to do just leave a comment in the box below and click the like / share or +1 to let others know about my site. Thank You It really is most appreciated.