Christmas Time With Our Cats
by Kate
(London)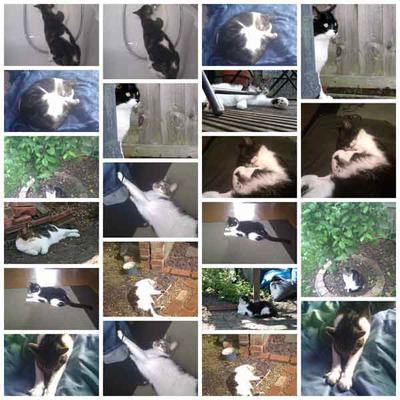 Byron and Shelley Our Boys
Well it's Christmas Eve here in the UK and I'm preparing to go visit my relatives and that means making plans for our kitties, this year 5 cats need taking care of. This takes a lot of thought and preparation; in fact it is rather light military maneuvers. Here's the plan:


Christmas Eve
So this evening before we go to visit the in-laws we have to make sure that Byron and Shelley are in, fed and have everything they need until tomorrow morning. We like to keep them in overnight and as this will be slightly longer than normal, litter trays will have to be arranged ,just in case (although they never seem to want to use them any more).
We also have a stray cat, a large Ginger boy which has been visiting for awhile and we must make sure that we leave some food and cat milk for him tonight, just in case he comes around. (We have also built a little warm shelter for him outside, so he has somewhere cozy to go on cold nights)
We are also looking after two neighbors cats this Christmas too. Collie, a black and white female who loves her food but can be a little shy. So we have to go visit her in her house and make sure she is happy before we go, lots of tickles and love.
Also we have to go and visit Tigger, a very soft and fluffy Persian cat who just loves people. He is always overjoyed to see us and he gets plenty of games and cuddles every time we see him. So he will also be getting a visit from us this evening to make sure he will be OK over night.
Christmas Day
We make a special trip back in the morning from our in-laws (luckily they only live about twenty minutes away) to take care of all the cats in our charge before we are off again for more visiting with relatives and Christmas Dinner.
As you can see we have to be very well organized to make sure all our furry friends are happy and cared for and that we are ready to celebrate Christmas with our families.
Wishing all or you and our furry friends a very Happy and Peaceful Christmas. See you next year.
Don't forget if there is anything you would like me to add to the website, please let me know.
---
I'd love to hear what you think of this page or my site. Let me know if you like what you have read or if it has helped you with a problem.
It's easy to do just leave a comment in the box below and click the like / share or +1 to let others know about my site. Thank You It really is most appreciated.