Cleo The Cat
Cleo the cat. My name is Alice and this is my cat.
Sex - Female
Age - 8 weeks
Lives In - pinellas park, fl, USA
My favorite food - She isn't picky......yet. for right now she is getting soft food mixed with dry
This is what I like to do the best - smacking the you know what out her adopted sister Cami.
My funny habits are - For now, I know that Cleo has a hatred for my cellphone and hisses and swats it when i try to take a picture of her...so i have to be very very quiet. If she has any other strange or funny quirks, she has yet to show me. I just got her on Wednesday
How I found my cat - Given to me by a neighbor

This couple owned her mother, skittles. I always loved skittles personality, small kitty that acted like she was 100 feet tall. Anyway skittles had kittens and I wanted the one that looked exactly like her. The couple told me no that the kittens were already spoken for, I was crushed well about two days ago, the couple came back and asked me if i still wanted that kitten and of course I said yes because Cami was lonely and I wanted her to have a playmate. I saw cleo and she had the same personality traits of her mother, she came right up to me and climbed up my leg and got on my shoulder like a parrot. The name cleo was chosen by my godson. ok well at first it was naruto, then serial killer and my personal favourite...immaslapu (im a slap u) after many no not naming her that kevin, he said fine cleopatra because he is doing a report on her at school, so that is how we got her name.
Cleo's mommy skittles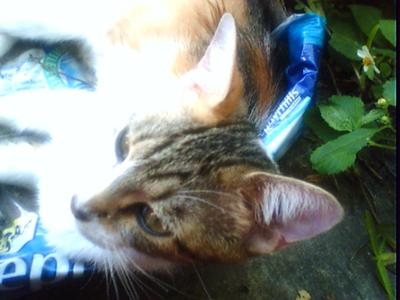 spittin image of her mama...i do not own her mama unfortunately..her owners moved and left her and her other two babies herecomment from katedon't you just love our kittys. 
Cleo Hangs Out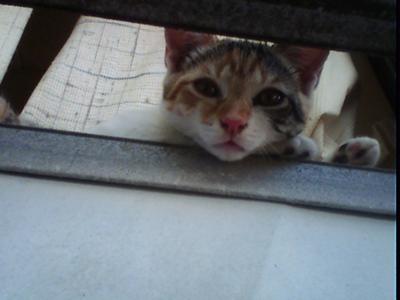 i was sitting outside and she was watching me Comment from katehe looks like he is going to spit on your head just like a naughty child :) 
Cami and Cleo and Kitties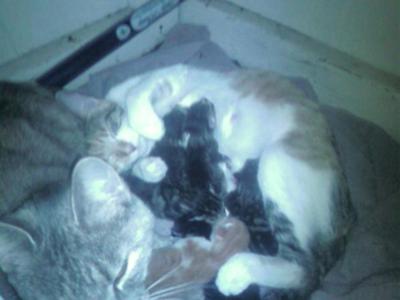 cleo the cat is now 1 year old...sadly when she was about 6 months, miss thing went on a little adventure and came back pregnant..she had 6 healthy babies. They were born 1/10/2010 and my other cat, her sister cami, laid right behind her and helped her birth and groom cleo's babies...these are pictures of cleo and cami with the babies. i found the babies all homes and they are happy now, and now i am happy because my little adventurer is now spayed.
---
---
I'd love to hear what you think of this page or my site. Let me know if you like what you have read or if it has helped you with a problem.
It's easy to do just leave a comment in the box below and click the like / share or +1 to let others know about my site. Thank You It really is most appreciated.