Cutie Pie (aka) the vampire bat cat
by Jessica T.
(Florida)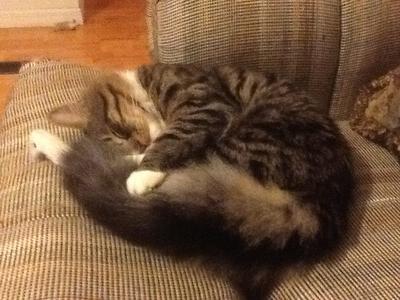 Cutie Pie
I found my Cutie Pie around 9:00 p.m under mine and my husband's car. He was just walking around behind the front tire and he was also being taken care of by another male cat oddly enough! The other cat also known now as "


Barnabas Collins" would never leave him alone. He would sleep at the front of the tire as he seemed to be protecting him from surrounding male cats since Cutie was only 7 weeks old at the time. We do believe someone had just dropped him off in our area and maybe hoped he'd get a home...which he did! I didn't bring him inside until two days later. I found him on October 29th. 2013 and brought him in on Halloween as I noticed the other cat wasn't quite up for playing with him since he just wanted to groom and he started to become a bit rough with him biting him and pinning him down.
Cutie was very malnourished though I had only just started feeding him outside the two days before as well as "Barnabas Collins". I knew I couldn't leave him outside any longer because of the feeling I'd had that something would eventually happen. I picked him up finally and the first thing he started to play with was the crucifix pendant on the chain around my neck. I didn't really want another cat since we had just moved and were getting our Shotzi Sweetheart Bubbie used to the new home so I gave Cutie to a neighbor.
I was emptying some mop water outside when I noticed the neighbor bringing him back and my first thought was "Oh no, Jesus you know we can't afford another cat at the moment,why"? The neighbor had stated they simply couldn't keep him because his dog was trying to try and hurt him, maybe not on purpose, but he didn't want to risk him getting hurt. I didn't know they had a dog at the time...and a large dog at that. I could also read that he wasn't really a cat person and maybe he had been thinking about that when I asked if he could give him a home so needless to say I started thinking maybe Cutie Pie was Godsend and that Jesus wanted him here and only here with us because he knew we didn't have much, but that he would have a loving home and toys, as well as food which he desperately needed. My husband and I live in a single wide trailer, but it's still our home as well as Cutie Pie's now and Shotzi Bubbie!
They even have their own loveseat couch and a backroom since we have no children. They are our children! My husband and finally decided on a name as he bobbled back and fourth on the bottom part of the living room table trying to fight sleep since I knew that he knew he could sleep with no noises and he and Shotzi got along
as soon as they met! He rubbed up against Shotzi to let him know that he meant no harm and was happy to see another cat and Shotzi returned the favor by letting him sleep against him. There was no tension between the two to my astonishment and Shotzi had just turned 4 years old. I was amazed since I thought I would have to put him in the back room for a little while, but that didn't have to happen! We couldn't decide on a name until one evening while we were eating a cube steak dinner and he decided to jump up on the kitchen table and laid there with his paws curled up against his chest and stomach looking at us with this adorable furry face that said "If you give me a little piece of that steak, I'll be your best friend". I finally said "I know what you're doing trying to look like a cutie so we will give you some table food". We were also having some apple pie with Vanilla ice cream for dessert and I gave him just a taste of the ice cream. I looked at the little apple pie and back at him and told my husband "Cutie Pie"! He was being cute for the table food and he not only wanted ice cream, but to try some of my apple pie!
My husband wasn't thrilled about the name, but it just stuck and we tried to come up with other names, but nothing suited him but that single one! I know that it seems like a strange name, but I have no regrets of naming him that because he still does the same thing in the same manner until this day! Every time I cook, he's right there on the floor with the paws curled up looking up at me waiting for a taste of dinner thinking "Since I'm Cutie Pie, I have to look like a cutie to get a taste of whatever mommies cooking tonight...unless it has anything toxic and then I just have to smell and see what's for dinner tomorrow night and maybe she'll have apple pie with vanilla ice cream"! By the way, Cutie has a nickname. He is the vampire bat cat as he likes to do this "floating" thing right before landing on the couch or our bed or any other high up places. He goes to jump on our bed, makes a noise that sounds like putting your lips together and blowing for a second only a meow, floats for a quick second and then lands! I'll try to catch a picture, but it's so quick it may take a video :)
I really hope you enjoyed this story as I know it's long, but to a cat lover it can never be long enough! Thank you to all who read this and I wish the best for all of you and your furry feline children! Thank you and with love, Jessica Toney