Dave A Cat Rescue Story
by Kathryn
(Tamworth UK)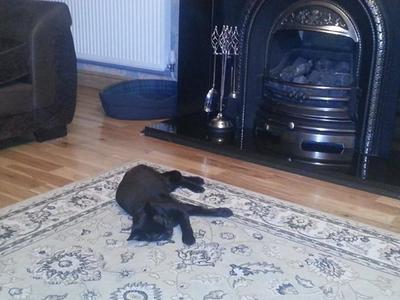 Dave Settliing in on his 3rd day with us!
In May 2013 we returned from holiday and started receiving visits from Dave in the garden.


Clearly starving, he was a bag of bones and wanted to make friends with our cat Bridget. Bridget would allow him to sit within 4 feet of her (which is good as she normally runs a mile at other cats)!
I fed Dave little bits of food and biscuits when he came into the garden, which could be a few times a week or just once, (I worked during the day).
My husband said if I could gain his trust enough to get him in the house, we could give him a home. Dave was very scared and it took weeks to get him to trust me enough to stroke him and that was so sad, because he was so thin that you were just stroking bones.
Finally on 11 August, having not seen him for two weeks and believing he must be dead, I was washing up in the kitchen with the back door open and in comes Dave with a very vocal set of lungs and dives into Bridget's food bowls, eating every bit of meat and biscuits and water. Dave continued to eat another two pouches of food and bowl of biscuits.
I shut the door and made him a bed, gave him as much food as he wanted. Dave promptly fell asleep and slept there until the next morning when I took him to the vet. Dave was checked over and apart from being very underweight was pronounced fit and well and is a young cat, not much more than 1 if that, no chip and I think he must have been abandoned. He had his first injection, had flea treatment, was wormed and booked in for neutering four days later.
Dave continued to eat like a horse and had his operation on the Friday (he was also chipped), went back outside on Sunday (complete with his collar and magnet), then it was up to him whether he wanted to make this his home. Dave duly came back and has settled in so well.
Dave we believe is part Siamese due to his vocal cords and looks, though he is all black, loves rubbing up against everyone and everything, very playful and talkative and comes straight to you when you
call him, he also has the strongest tail! Tail like a boa constrictor snake!.
Bridget suffers him, but she is a bit of a matriarch and very opposite to Dave, but apart from hissing at him if he gets too close she is fine. Dave would love to play with her, but I doubt that she will.
We have had Dave for 3 weeks and he still has a bit of weight to put on (eats like a horse), but hopefully that will come over time.
We love Dave to bits and having recently lost my job under very upsetting circumstances, Dave has been a wonderful distraction whilst off work and it gave me a chance to settle him in properly before starting my new job in a few weeks.
We said we would never have another cat, but Dave came into our lives and captured our hearts and I hope he will be around for a long time to come.
by: tracy
Thank you for sharing your story! Dave is very lucky to have found you!I also have 2 cats that my boyfriend rescued from outside when they were kittens. Bootsie is 6 and Bonnie is 3 and they love each other.I also feed the stray/feral cats on my street and I have a Volunteer from protectors of animals that has helped me so much by doing trap, neuter, and return and finding homes for the friendly cats. Most cats that I feed I have gained their trust, but there are still a few that I have been feeding for a few yrs. that are still feral.If people who got cats would get their cats fixed all would be great, but what is happening is people are not getting their cats fixed and if the cats is a male and he starts spraying in the house they put the cat outside and then female cats get pregnant. I live in a city on a busy street and no cat should be outside here too many cars driving way too fast. I know its costs money to get a cat fixed, but if you want a cat it has to be done. I love all the cats! Anyway thank you again for sharing your story about Dave. I know he is so grateful to have found you! You saved his life!