female cat dislikes male kitten and behaviour changed :-(
by anthea
(cape town, south africa)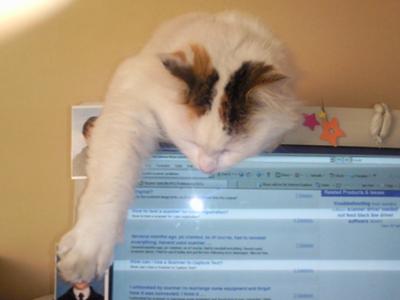 my cat
I have a stunning female cat who is my baby. We have had her for 3 years. She is now 4 1/2 years.


We ended up adopting a black kitten as it was going to be put down, who is lovely too. The only thing is my cat dislikes this 8 month old kitten 98% of the time. He is neutered. She doesnt want to come into our room anymore or sleep with us and whenever he approaches her, she hissess at him and WHEN (only twice) that she has been on my bed with me, and he jumps up and tries to come and lie with us, she gives this horrible meow at him and jumps off. I love this black kitty but am suddenly regretting adopting it, as its changing my cats behaviour :-( Feel bad for both of them!!
thanks
Reply
Hi
Don't feel bad, what you have described is normal cat react to a new cat in the home and things will settle down with time.
You did not say how long ago you adopted the new kitten. If it was less than 2 months i would recommned giving the cats a period of introduction. This does take some time and effort on your part but it does if the cats time to build their confidence with each other without the fear of attack etc. the process is described on my page here
https://www.our-happy-cat.com/introducing-cats.html
Kate
---
I'd love to hear what you think of this page or my site. Let me know if you like what you have read or if it has helped you with a problem.
It's easy to do just leave a comment in the box below and click the like / share or +1 to let others know about my site. Thank You It really is most appreciated.