Flea Treatment For Your Home
Which flea treatment is best at getting rid of cat fleas from your home? This is a question I am often asked and one that cannot be answered with a single product. 
The secret to ridding your home of fleas for good is to carry out a series of actions repeatedly over a period of time to ensure that not only live fleas are killed but that also dormant eggs and pupae are also eradicated.
| | |
| --- | --- |
| | The flea life cycle means that just killing the actual adult fleas on your cat is not enough to ensure that your pet won't become re-infected again. To fight cat fleas properly, the whole home environment needs to be treated as well as your cat. |
How To Tackle Fleas In Your Home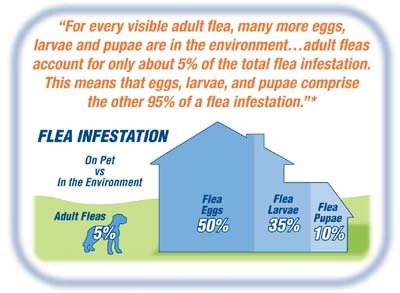 Obviously vacuuming often and keeping your home clean is the first step, but if you are unfortunate enough to have a bad flea infestation, here are the steps to take for effective flea treatment for cats and your home.
First of all make sure you have treated your cat effectively. See my page all about flea collars, powders, spot-on treatments.


Vacuum everywhere and carefully get rid of the contents of your vacuum. If you have a disposable bag, remove it and put it in an outside dustbin. If your vacuum does not have bag, take your machine outside and either give the container a wash or at least a good wipe around to remove as much of the dirt as possible (flea eggs could be contained amongst the debris)


For heavy infestations, remove and destroy all of the cats bedding and any textiles used by your cat. This may sound drastic but because the eggs and larvae can embed themselves in fibres, it is sometimes better to just get rid of things rather than try and wash them.


For lighter infestation, bedding and fabrics must be washed in hot water and then can be sprayed using household flea treatment such as:
Flea Treatment For Cats Outdoors
Cat fleas can also live dormant outside for a period of time, in the grass or your cats outside sleeping area, so treating your outside areas too will help prevent the spread.
Normal insecticides can be used for outside areas as well as the flea sprays, however always check that they are safe for pets and that they won't damage your garden.
Outside buildings such as sheds and garages can also be treated with a flea bomb if your cat regularly hangs out there.
Heavy Flea Infestations.
Sometimes through no particular fault of our own, we may experience a flea problem that is just too large for us to tackle on our own. I once returned home from a short break during a very hot summer to find my carpets literally jumping alive with cat fleas. They were everywhere and I just couldn't face trying to tackle the problem myself.
In cases like this, you can call in professional pest control companies to come and do a thorough job for you. If you do decide to get the professionals in, always check what chemicals they use to make sure that they are safe for your pets. Also check what after-service they are offering, as you may have to call them back and knowing exactly what is included in the price could help you choose the best flea treatment company for you.
More pages about fleas you may find helpful
---
Top of this Flea Treatment Page
---
I'd love to hear what you think of this page or my site. Let me know if you like what you have read or if it has helped you with a problem.
It's easy to do just leave a comment in the box below and click the like / share or +1 to let others know about my site. Thank You It really is most appreciated.