From Bebop to Beta - Cat rescue story
by Natalie Hamby
(Nashville, TN, USA)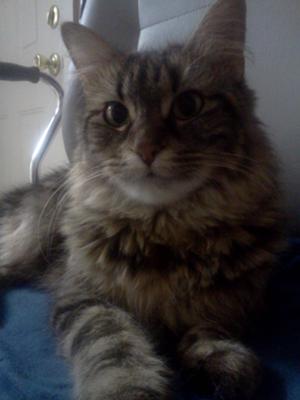 Beta our cat
When we lived in NJ we had a cat named Bebop. We loved her dearly. However, we fell on very hard times and lost our apartment, so we had to move. To make a long story short, sadly, we ended up having to give up Bebop, and we moved to TN.


After a couple of years we were able to get another apartment that accepted pets, so we went to the local shelter. Right away we fell in love with a cat that looked a lot like Bebop. We took her into our home and family. Even though she looked so much like Bebop, we wanted to give her her own name, so we named her Beta, (as in our 2nd Bebop).
When we got Beta she was healthy, but very thin. Feather-light. She has since about doubled in weight, and is the most playful cat I've ever seen. I have had other cats, many years ago, but it seems like when they get fixed, or by 1 year old they aren't quite so playful. But Beta is a playful, happy, loving cat. And she is about 2 years old now. She begs to play so much that we are considering getting another cat to keep her company. We just can't keep up with her. But we love cat's anyway, so we don't mind getting another one!
---
I'd love to hear what you think of this page or my site. Let me know if you like what you have read or if it has helped you with a problem.
It's easy to do just leave a comment in the box below and click the like / share or +1 to let others know about my site. Thank You It really is most appreciated.