Homeless Cats
Rehoming Is the Answer
Animal shelters are full of homeless cats all looking for a new family. Sadly there will always be lots of cats without a home and the problem seems to be on the increase.
Sadly the cause of so many cats looking for a new home is often caused by us humans and this is often caused by lack of understanding and willingness to change.
Your cat is lucky they already have a loving family and I'm sure the last thing you want to do is to lose your feline companion.
There are many reasons why you may be considering re-homing your cat. In some cases it may sadly be unavoidable, in which case we will give you some advice as to go about finding a new home for your cat.
However before you make the decision, lets look at your reason for re-homing your pet. Perhaps there is another way to avoid making another homeless cat.
The Top 6 Reasons Pets Become Homeless Cats
Allergies – Someone in the household may become allergic to cats or your new boy/girl friend might have an allergy problem. However don't make your pet a homeless cat straight away, there are things that can be done.
Options:
Sometimes if the allergic person lives with the cat for a few weeks the symptoms subsides as their immune system becomes used to the allergens.


Make sure your cat is regularly de-flea'd.


Groom your cat outside, this will remove loose hair


Wipe the carpet down with a damp cloth after vacuuming


Try a pet shampoo that reduces the allergens, like PetalCleanse or Allerpet.


Consult your doctor who may be able to prescribe tablets to reduce the symptoms.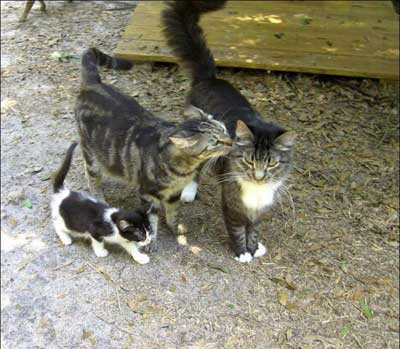 Moving Home – You may be concerned that your cat will find it too stressful to move or be able to adapt to it's new surroundings. Or you may be concerned that your new landlord will not allow you to have a pet. 
Options:
Write a resume for your cat, which includes age, breed, vet detail, neutered or spayed, behavior. Also include your previous landlords details to show that the cat didn't prove to be a problem before. 


Ask the landlord that you would be prepared to add a clause to your rental agreement regarding the keeping of a pet and to include any compensation to the landlord for any damage caused by your cat.


Speak to your vet a few weeks before moving to see if they think calming medication might be required during the moving period.


Make sure you put some old items in your new home with familiar scents on them. You might even want to leave some of your unwashed clothes around for a few days to give the cat some feel of security.


Keep your cat locked in a separate room on the day of moving so that they do not become agitated with all the coming and going.


Try to introduce your cat to the new home once you have it as straight as possible. Once again this will reduce any stress to your cat. After all your pet may feel like a homeless cat for a few days in a new place, so to make sure they do not run a way during this time, a calm environment is essential. See my page about Moving with your cat.
Behavior Problems – if your cat has some behavioural problems don't become exasperated and make another pet a homeless cat. Instead read our Cat Behavior pages, most problems can be over come with a little time and effort. It's worth it in the long run to reduce the amount of homeless cats and keep them in your loving home.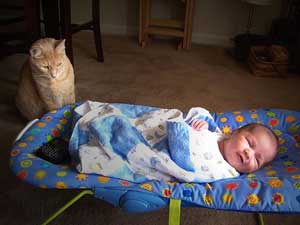 A New Baby In The Home – A few simple steps should ensure that both your cat and your new baby will be able to live happily and safely together.
In fact clinical studies show that babies who live with animals during the first few years of their life build up a resistance to other allergens in the future like asthma.
Options:
Pregnancy - There have been many scare mongering stories about pregnant women and cat diseases like Toxoplasmosis. In fact the risk of catching something like this from your cat is very low, you are more likely to be at risk from undercooked meat.
If you are still worried either ask someone else to clean the litter tray or wear rubber gloves. A normal hygiene routine is all that is required.
Emigration – Moving abroad doesn't automatically mean that another pet has to become a homeless cat. As long as your cat is in good health it may still be possible to take them with you.
Contact your countries government department for emigration or a company who specialises in transportation of animals like airpet.com, who should be able to give you advice regarding the law for moving animals.
Re-homing Your Cat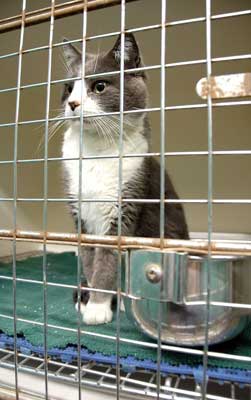 If you have no alternative but to find a new home for your cat ( I know none of you would, but please don't just make your pet a homeless cat by leaving it to fend for itself).
Here are some tips on the best way to find your cat a new home.
The best way to find your cat a new and loving home is to contact your local animal shelter or cat rescue centre.

They have the best resources for re-homing your cat and although they will have many homeless cats already they would rather you come to them than give your cat to someone who may not be suitable.


If you have a pedigree cat, there are specialist cat rescue centres who may even have owners already looking for a cat just like yours. They will also be more aware of any special cat care requirements for your specific cat breed.
If you prefer to find a new home for your cat yourself, here are a few guidelines as to how to go about it to ensure that your cat is placed in the best possible home.
Write a small CV about your cat so that you can give it to potential owners. This will mean that you won't have to repeat yourself over and over and also it will give the new owners a better idea about the cats personality and habits to see if it would be suitable to their lifestyle.


Advertise on the internet with animal orientated sites such as petfinder.com.


Place flyers in places you know and trust, such as your church, animal shelters and charities, vets, your work place.
Interview any potential owners and ask lots of questions about pets they have owned before and why they want to adopt a cat. If possible ask to see their home, this should not be a problem for anyone who is serious about providing the best care for an animal.Make sure you have all their contact details so that you can find out how your cat is doing in the future. This will deter anyone who is not a serious and caring cat owner.
IMPORTANT
Please do not post advertisements which say "free to a good home". There have been reports of pets going to very unsuitable homes and perhaps have even become homeless cats at a later stage once the new owners have become bored with them.
If someone wants a cat for Free, you have to consider will they have money to pay for their care and upkeep.
Our best advice is to play safe and ask your local cat rescue centre to find a home for your pet. This way you will know that they will be placed in safe and caring hands.
---
Top of this Homeless Cats Page
---
---
I'd love to hear what you think of this page or my site. Let me know if you like what you have read or if it has helped you with a problem.
It's easy to do just leave a comment in the box below and click the like / share or +1 to let others know about my site. Thank You It really is most appreciated.