I believe some things just happen for a reason
by Allie
(Maine)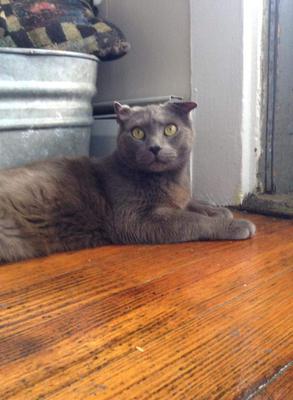 Crinkles the cat
My partner has always loved grey cats, he had one as kid who really touched his heart so he has a soft spot for them. We got a grey kitten when we moved in together but as it should happen, he became my cat and didn't much like the company of my partner which was a bit frustrating for him.


In October of 2015 me, my partner, and a friend went to Walmart to pick up our friends boyfriend. While we were waiting in the car we noticed a big cat skulking around in the grass. There was a woman letting her dog pee and the cat was terrified. We watched for a while until we left. Our friends told us that night the cat was still there, four hours after we had seen it so they coaxed him and brought him home. He was a big grey male with two mangled ears (the worst cauliflowered ears I'd ever seen in almost 20 years of owning cats). He had a collar and tag on him, name was Crinkles (assumingly the ears). They called his tag and were told that they knew their cat was there in the parking lot, they didn't want him. I was horrified! So our friends kept him a while, but their landlord said no cats. I begged my boyfriend to give this cat a chance despite already having three other cats. I just had to bring him home. Something told me "he is meant for you, take him home!!!!". He was even neutered, that was what gave us the okay to take him in.
Instantly he attached himself to my boyfriend. Snuggling, following, talking, but mostly licking. He would lick
my boyfriends face for hours if he was getting loves. It made me more angry about the people who ditched him in a high traffic parking lot. He was perfect. He came to us infested with fleas, ear mites, and worms. The poor guy has scars behind his ears from scratching so hard.
We got him healthy and he thrived more and more. New years eve we woke much earlier than usual, hours early. We found our beloved Crinkles laying on the bathroom floor only half alive. He barely picked up his head, wouldn't move, and only meowed when my boyfriend talked to him. We knew it was bad when he crawled two feet and laid inside his litter box. We rushed him an hour away to a vet that was willing to take an emergency walk in on new years eve. He was blocked, he couldn't pee and they told us if we hadn't gotten him there soon, he wouldn't have survived. He spent five days and four nights at the vets office and racked us up quite a bill, but we knew he was worth it. He was diagnosed with Feline Idiopathic Cystitis. Maybe that's why his previous owners abandoned him. Maybe he found us for a reason, so we could save him. And a part of me thinks he helped save my boyfriend as well. He suffers from very bad anxiety, but Crinkles always knows when he needs him the most, and he's always dishing out kisses.
He is only two years old and I can't imagine how hard his early life was, but with us he will have a long, healthy, loving life and we couldn't ask for a better cat.
---
I'd love to hear what you think of this page or my site. Let me know if you like what you have read or if it has helped you with a problem.
It's easy to do just leave a comment in the box below and click the like / share or +1 to let others know about my site. Thank You It really is most appreciated.