Kirk and Spock...the Star Trek kitties
by Liz
(Pace, florida )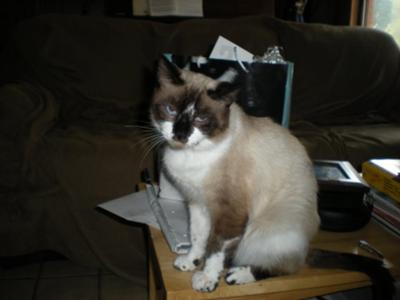 Spock
A little over a year ago, my husband and i adopted two kitties from the local Humane Society. Spock, a Siamese mix and Kirk a little Tabby. We went with the intention of just looking, but saw this cute and friendly Siamese mix and decided to think about it and come back the next day. The next day we decided to take the Siamese mix home, when at the shelter this little Tabby kitten jumped onto a ledge next to my husband and started nuzzling and purring. So, of course we left with 2 cats, I mean who could resist that, right? We named the Tabby Kirk and the Siamese Spock after Star Trek (My husband is a Trekkie). They quickly became a part of our family. Kirk was the playful and lovable one while Spock was the laid back and shy kitty.


However, last December Kirk did not come home for about 2 or 3 days, this was odd because he rarely left the yard. During this time Spock would stay on the back patio just constantly meowing. Then on Saturday morning when we woke up, Kirk was home. But, he did have a horrible broken front leg. I immediately called into work and drove him to our vets office. (which thankfully was open on a Saturday.) After viewing the X-Ray, it turned out not only was his leg shattered, but he had been shot and the bullet caused the break. I was VERY upset, but was assured by the docs that he would get the best care possible. He
was taken right into surgery where a pin was placed into his leg. He did stay in the hospital for a few days, but was allowed to come home on Christmas Eve. (best Christmas present ever.) Also, back at home, when my husband was playing with Spock he noticed something in his flea collar. It was a bullet that was somehow miraculously stopped by the rubber in the collar. After a few weeks of healing Kirk was cleared to run, jump, and play just as he had been. He still walks with a limp and because of the surgery his front leg is slightly crooked, but if it had not been for the expertise of our vet and her team, he may not be here today.
Comment from Kate
What a great story. i just don't know how some people can be so cruel and nasty to animals. Thank god for people like you.
best wishes Kate
too cute cats
by: Anonymous
Your cats are so cute. I love cats to, but my brother and dad are allergic to them. I wish I could get a ginger one with blue eyes and name him Kirk and get a black one with brown eyes and name him Spock. Maybe a brown one with blue eyes named McCoy. Anyways, cats are cute.
Your kitties are beautiful!
by: Anonymous
I am so sorry about what happened to Kirk. Thankfully, you and your husband and vet were able to help him. Kirk and Spock are beautiful and I am glad they have a great home!
Nancy
---
I'd love to hear what you think of this page or my site. Let me know if you like what you have read or if it has helped you with a problem.
It's easy to do just leave a comment in the box below and click the like / share or +1 to let others know about my site. Thank You It really is most appreciated.