Kittens constantly scabbing for food
by Jo
(Cairns QLD Australia)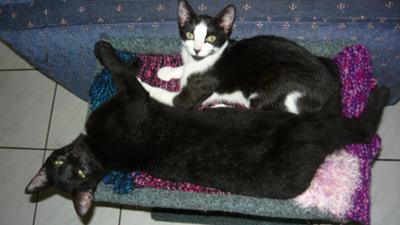 Hi,


I have three cats, a 4 yr old female tabby a 10 month old male (Sylo) and a 9 month old female (Zyla). My tabby is not a problem however my kittens drive me absolutely nuts. I found my male kitten under the school buildings where I worked when he was around 5-6 weeks old. The children told me that he had been trying to steal their food scraps for 3 days so I assume he had been starving for a while. I found my female kitten on the road when she was about 3 months old. She had not eaten or drunk for a while either since she was constipated for a few days after I brought her home. Since then they have both become CONSTANT scabbers. All day they meow at me, walk in front of me and refuse to leave the house. They steal every scrap left on a plate left anywhere in the house. Zyla snatches the loaf of bread off the bench and runs. If they do leave the house they tear open neighbours rubbish bags and bring home old rotten scraps. When I feed them they are so frantic to get to the food they squeal and jump on me before I put it down then they grab their meat and run away with it, or if i manage to get them to stay at their bowls they constantly look at each other to see if the other will steal their food. I have tried feeding them separately so they cant see each other,making them wait until they are calm to feed
them, leaving biscuits out all day so there is constant food. Im at my wits end I get so angry at them that now Im just smacking them all the time and I hate doing that. Please help I dont know what to do??
-Jo
Answer by Kate
Hi First of all please can I ask that you don't smack your cats, they do not understand this form of discipline. All you are doing is making them feel scared of you when you smack them. Cats learn by reacting to positive and negative reactions. Please see this page for more on this form of cat cat discipline.
https://www.our-happy-cat.com/cat-discipline.html
As for the eating problem. this is not unusual behavior for cats who have had a hard start in life where food was scarce.
They have to learn that food is no longer scare and that they will get fed everyday. The only way to do this is to feed them at regular times and not give them tidbits during the day. I would continue to feed them separately so that they can feel safe when they are eating their food. if this is done every day they will soon learn to calm down.
Having said this when cats have got used to begging for food and getting it, it can be a hard habit to break but you must be strong and not give in. I know this is hard as I had a cat who used to beg for food all the time and it took a long time to get him to stop doing it so often.
best wishes Kate
---
I'd love to hear what you think of this page or my site. Let me know if you like what you have read or if it has helped you with a problem.
It's easy to do just leave a comment in the box below and click the like / share or +1 to let others know about my site. Thank You It really is most appreciated.