Kitty Poems
A Collection
Everyone loves a kitty poem and our sites visitors have supplied us with some of thier own original cat poems for us to enjoy. 
My Cute Cat!
by Caroline (Washington)
My cat is fat,
oh yes she is!
She lays around,
and she sleeps all day,
but sometimes she
likes to play!
Even though she does all that,
im still in love with my cat.
By the way she is white and grey,
and she knows how to dance ballet! 
---
My Kitty 
by tri n tran (california)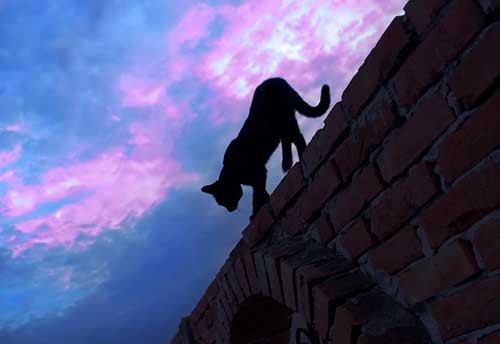 Silent, she moved toward the day,
Searching for the turquoise fire in her sky.
Glided through the streets without fear,
My kitten, a pet ever in my heart.
Queen of darkness in all seasons,
Princess of a nation, she ruled.
Cry of joy, purr of bliss,
She my kitten, I ever treasured. 
---
My cat Sasha 
by Jasmine Thomas (Manchester) 
My cat Sasha is very small,
Once she tried to climb a wall.
She couldn't do it, That is good.
When she came home she hid in my hood!
My cat sasha is very bad 
when you tell her off she goes mad.
If you spray her she runs round and round,
It's like the living room's her playground.
I really love her lots and lots,
More than 62 Robots.
If she ever runs away
I will cry all night and day!
---
CATS 
by Jovi (SALEM) 
CATS CATS CATS
I love cats
Some are cute
Some are small
Some are big, fat and fluffy.
Some are nice and sweet
Then some are Mean.
but no matter if there cute
small bad or good
I love them all. 
---
My Kitty Cherry 
by Rachel Christian (Trinidad) 
I have this kitty whose name is Cherry,
She's black and white and very fluffy, 
She likes to play with puppies,
And bunnies and birdies.
She sleeps inside with her teddy,
She has also caught many birdies,
But she has never eaten any,
But, Cherry loves her food of salmon and turkey.
She is very spoiled,
And i consider her may baby,
Oh yes I really love my darling baby
Oh and don't forget her name is Cherry. 
---
---
I'd love to hear what you think of this page or my site. Let me know if you like what you have read or if it has helped you with a problem.
It's easy to do just leave a comment in the box below and click the like / share or +1 to let others know about my site. Thank You It really is most appreciated.