Mama Calico (The Shed Kitty) UPDATE
by Mary
(North Carolina)
Last April I submitted a story about a tiny little Calico cat with 2 kittens that I found under my shed. The mama cat (not even a year old herself) was very sickly and all of her litter of kittens had died except 2 (a male and a female).


The Mama Calico (thus her name) was VERY feral and would not allow me close enough to help her. When I would reach under the shed to get to her kittens to hand feed them , she would hiss and try to bite and scratch me. Most times she would just run into the woods.
The little girl kitten had a horrible deformity that took up most of the right side of her head including her entire right eye. She was terribly pitiful and a runt.
The mama would carry her to the back of the shed where it was near impossible for me to reach her and leave her there (I guess to die) being she was in such bad shape.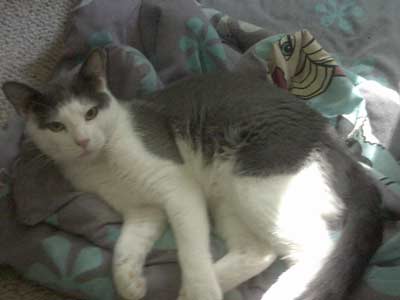 lenny
When I would go to feed them, I would have to wrap my garden rake in cloth and pull her from under the shed to get food into her. I KNEW this kitten was going to die but I tried so hard to save her, sadly I failed.
She died after only 5 days. I expected it but it broke my heart.
The little boy kitten had such a bad respiratory infection that he could barely breath. His eyes was so infected that everytime I went to feed him, his eyes was sealed closed with goop and he could not see how to get about.
I would go to the shed every 2 hours around the clock for several weeks to make sure he and his little mama was fed, medicated and cared for.
The mama was also VERY sick with upper respiratory infection.
The vet looked at them and told me it would
be best to have them put down as they was both very likely NOT going to survive their illness as they had such difficulty breathing. I REFUSED TO GIVE UP!
Finally I humanely trapped the Mama and the little boy and took them into my barn shed out of the weather and continued my plight to save them.
There was many touch and go times where I sat by their cage for hours thinking they was dying but they somehow made it through.
It is now 1 year later and here is their up date:
Mama Calico is no longer FERAL!
She is socialized and has been fixed and lives inside my home along with my other rescues. Her name is (MAMA KITTY) and she responds to that name.
She is HEALTHY and a tiny little petite sweetheart!
Her son is also NOT FERAL.
His name is (LENNY) and what a sweetheart he is!
He is TWICE the size of his mama and healthy as can be.
He also has been fixed and lives inside with my other feline family.
I wish I could have saved the little sister but it was not ment to be unfortunately, but Mama Kitty and Lenny are PROOF that FERALS are WORTH the time and EFFORT.
I look at them everyday and thank God that they made it through the difficult time and beat death. They are a wonderful addition to my feline family and I love them dearly.
Just A REMINDER: IT IS kitten season IN THE USA AND please, HAVE YOUR CATS sprayed AND neutered to avoid more cases like Mama Kitty and Lenny.
NOT ALL will be as lucky as them and survive.
Spay and Neuter is a WONDERFUL thing that you can do for ANY cat be it indoor only or outdoor feral.
I just wanted to write and give a update on Mama Kitty and Lenny for those of you who may remember them from last year.