Missy The Cat
Missy the cat, My name is Denise and this is my cat Missy.
Missy is a female, aged 7 months old and she lives in Sydney, Australia

My favorite food - whiskers 'kitten' mince chicken or meat, and royal canine kittens dried food, kitten milk and raw cat mince meat

This is what I like to do the best - hanging out with us, pats, 'eating & snoozing' lol, chasing christmas beatles & lizards, running up the frangapanni tree and yakka plant, hunting, and spending time with her babies, nurturing, teaching and playing with them.
I love Missy dearly, a loving and caring mother, a playful and energetic kitten (yep you read right), and everyday we share with her she brings more lessons and shows more of her personality into our lives. She's very giving, never demanding. Missy loves to know what's new and what's going on. My partner calls her Mrs Mangle lol. Missy got pregnant when I was in hospital and she bonded immensely with my parnter, his mother and my mother who would go to our home to visit, "check up" and clean, love them too:).
So now am trying to find homes for her babies, they're almost 8 weeks old.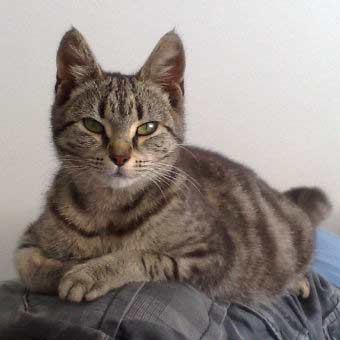 One Kitten looking for a loving home
I have one kitten left looking for a new LOVING home. Please check out me facebook events page and message me if you or anyone maybe interested in my last kitten... Sydney, Australia based. - See more at: https://www.our-happy-cat.com/cat-photos-missy.html#sthash.tPKERwr5.dpuf
kitten lessons
Missy teaching one of her kittens how to get back down from the tree
Here are a few photos of Missy with her babies
---
Top of this Missy the Cat Page
---
---
I'd love to hear what you think of this page or my site. Let me know if you like what you have read or if it has helped you with a problem.
It's easy to do just leave a comment in the box below and click the like / share or +1 to let others know about my site. Thank You It really is most appreciated.