Molly The Cat
Molly the cat. My name is Mary and this is my cat.
Sex: Female

Age: 3
Lives in: Trinity, United States

Her favourite food is: Molly loves all cat foods but loves people food better!

This is what I like doing the best: She is a true napper. She loves her naps.
Her funny habits are: She is a girl with quite an attitude. If you approach her the wrong way or do anything not to her liking, she will give you a warning by giving you a "Molly growl".

How I found my cat: Molly was tossed into a pond as a tiny kitten (she was put into a tupperware container and tossed into a pond) by 2 men trying to dispose of her. Luckily, a neighbor had seen it and called me to come quickly to retrieve her.
I was able to wade out into the pond and rescue her before her air supply was gone. She has been with me ever since.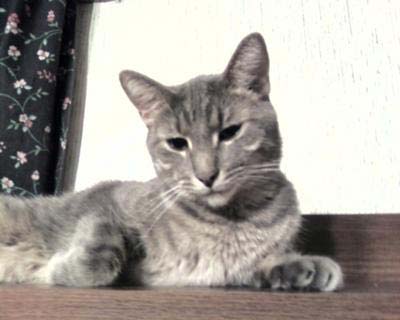 Comment from Kate
Oh my goodness, how awful, how can people be so cruel. that would have been a slow and horrible death for that poor little kitty. Thank goodness you rescued her in the nick of time.
Molly is certainly a very lucky girl and I'm sure she will be forever grateful to you. and will repay you every day with lots of love and affection.
I don't blame your cat for preferring human food to cat food. I always wonder why they make cat food so strange looking and not like food at all. After all cats are used to eating animals, not little perfect lumps in a strange smelly jelly. I'm still waiting for someone to make mouse or bird flavour cat food.
Thank you for sharing your cat life with us, she certainly very special.
MyDiary "By Molly"
Hello Everyone

My name is Molly and I am a 3 year old Grey Tabby.
I was born in Grand Rapids, Michigan USA in late February of 2006.
When I was about 4 weeks old,some bad men decided to dispose of me and put me into a tupperware container and placed a lid on it and tossed me into a pond.

I still haven't fiqured out what they thought this would accomplish because placing the lid on it was going to eventually take away all my air and I would soon die and to toss me into a pond at 4 weeks of age would mean I would drown so the tupperware container idea still baffels me.

Luckily, an elderly lady seen the men toss me into the pond and called my rescue human "Mary" to come quickly and help.
Mary waded out into the pond and saved me as time was running out for me.
She took me home and raised me to the kitty that I am today.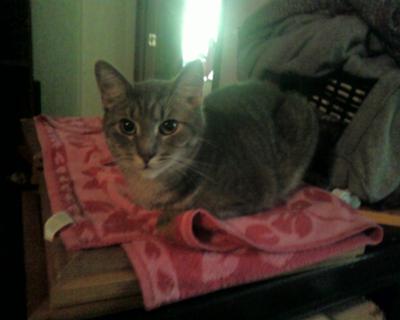 Mary say's I have an attitude, she is probably right.
If someone tried to kill you, I bet youd have an attitude too.
But for the most part, I am a lovable gal who loves to cuddle and be petted on my head and back.

I live with my other "Rescued Kittys" and we all try to get along which isn't always easy with us being territorial as most cats are. Usually after a hiss and a paw smack, we are buddies all over again.

We are absolute indoor kittys only, because Mary says that is how she keeps us safe. I see alot of bad things on TV that happens to kittys and it makes me very thankful that I am where I am and living a good life.
"Yes, us kittys watch Animal Planet" when we are not napping.

Well,I am not much of a typer so I better go for now.
It will soon be feeding time and I want to be first in line!
Thank you for stopping by my hut and reading about me.
Please come back again.

Ya'll come back now, ya hear?
Molly the cat
---
Top of this Molly the Cat Page
---
I'd love to hear what you think of this page or my site. Let me know if you like what you have read or if it has helped you with a problem.
It's easy to do just leave a comment in the box below and click the like / share or +1 to let others know about my site. Thank You It really is most appreciated.