My 14 year old tabby is obese and has started peeing in the basement.
by Louise
(Montreal, Canada)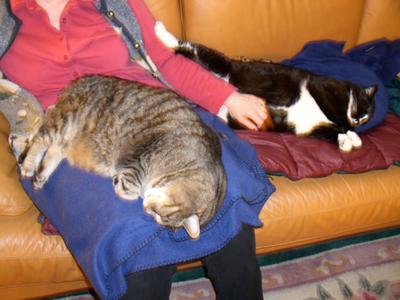 This cat has had an obcession with closed doors since we got him as a kitten. When we brought Kiwi home our other cat, Puddington (Pud for short) was 1.5 year old just wanted too eat or kill him!! so we had to keep them separate for about 3 months before we were able to let them be together. The kitten was in a closed room, but we occasionally changed them around. So I believe that this might have caused his hate of closed doors. He sits staring and meeowling at them, which we can usually open for him, and this has worked quite well.


He particularly loves the basement, where if we allowed it he would spend all his time. we think he likes the quiet there but he becomes more alouf and his wild streak becomes more apparent the more time he spends there, so we limit that amount of time. He would want this door open at all times.
The basement is unfinished, with a lot of things stored there, washer/drier etc..
Last week I found some poop near a mat he lies on, picked it up and cleaned very well.
3-4 days later I smelled urine! It had been there awhile (2-3 days) I washed as best I could, but it still smelled so I poured pure bleach, a couple hours later I went to wipe it up but it had seeped in the cement and there was no odor at all.
This spot has not been touched again... but there is a smell of pee in another area and we cannot find it.
We have been thinking of putting another litter box in the basement, but I'm not crazy about the idea because the other two boxes are on the 2nd floor, and this would make cleaning much more difficult.
This cat is healthy except for his weight, at 20 lbs, he is about 5 lbs overweight, has become lazy, will not play, and does not eat very much ( less than my other cat who is 15 lbs). Both cats are very tall by the way: they can put their front paws on the kitchen counter from the floor. The only problem I have with food is my other cat, Pud, likes to eat very small amounts at a time and comes back many times before he is finished, so Kiwi eats part of his food and runs to eat Pud's. Most of the time
we can stop him but not always, and we leave dry food for them at will, so getting him to lose weight has been a problem.
We have a couple of thoughts on the problem: 1st, has he become too lazy to go to the second floor to his box, and 2nd, is he so afraid we will close the basement if he comes up that he does his business there? We have the distinct feeling he does the 2nd when we call him up for a meal, he will show up to 2 hrs later.
Any thoughts would be greatly appreciated
Answer from KAte
Umm there is a few issues here.
I do think his weight could be the issue here. A over weight cat is a cat that finds it difficult to do all the catty like things their instincts tell them such as jumping etc. It also as you say makes them less active and a inactive cat is not a very happy cat.
I agree once a cat does become over weight is is very hard for them to loss weight but it is doable but take a lot of effort on your part i'm afraid.
It would mean creating a meal time routine for both cats i.e placing food down for them at a certain time bringing them to the food and allowing them to eat then removing any left overs. They won't like it at first but will get used to the new routine. this way you can monitor their food.
Secondly half of the problem is lack of exercise, a cat wont loss weight by diet alone. So this means that you have to spend time with him every day encouraging him to run and chase balls etc. Again he wont want to do this but you have to be persistent and do it everyday. As his weight comes off he will naturally become more and more active.
As for his urination etc issue, this could be down to distress and the distress could be the fact that he is finding it difficult to get around. So i do think his weight could be playing a big role here.
I do think that until he losses the weight you will have to consider placing a litter tray down in the basement area for him.
I have a page on my website which you may find of further interest and help here
https://www.our-happy-cat.com/fat-cat.html
best wishes Kate