My 9 months female kitten is crying all the time and lifts her bum up in the air and rolls around everywhere?
by Amy
(Liverpool)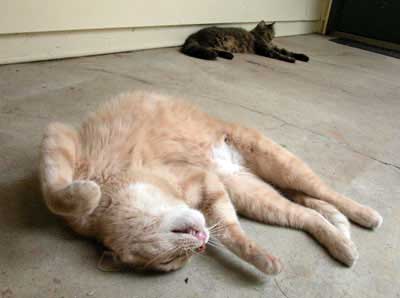 Cat Rollling around in heat
I have a female kitten (9 months old) keeps crying/meowing and lies down on the floor with her back side up in the air and cries all the time , but also I have a 9 months male kitten too. My female kitten is always trying to get a lot of attention from my male kitten by crying and lifting her backside up in the air at the same time as well as rolling around in front of him.


My male kitten doesn't seem to understand what she is trying to do and he doesn't seem interested all he does is either jump on top my female kitten and bites her. sometimes my male kitten licks female kitten private part and she really seems to be loving it. I am not sure if female kitten is pregnant because my male and female kitten have been having sex once maybe twice.
Do you know what this could be?
Reply
This is normal female cat behavior when they are in heat please see this page for more information
cat-in-heat.html
I know it sounds and looks rather odd to us but this raising of the hind quarters and the female cries is a signal to male cats that she is ready to mate. Instinct is what drives out cats and even though you may think that they are too young to know what they are doing, that counts for nothing when it comes to a cats natural instinct.
You may be surprised to learn that female cats mature very quickly and are ready and able to have kittens of their own from as young as 6 months. That s why it is important that spaying and neutering are carried at as soon as possible.
At their age both cats should have been spayed / neutered by now to prevent pregnancy etc.
For more information about neutering and spaying please see my pages here
neuter.html
---
I'd love to hear what you think of this page or my site. Let me know if you like what you have read or if it has helped you with a problem.
It's easy to do just leave a comment in the box below and click the like / share or +1 to let others know about my site. Thank You It really is most appreciated.