My Cat Wont Stop Eating!
by Catriona
(Scotland)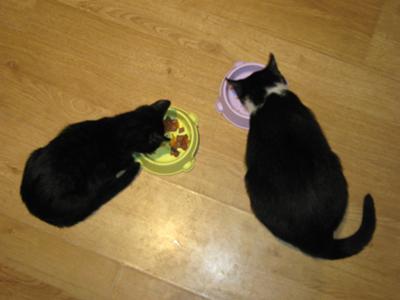 Bieber and his sister Lilly - 5 months old
Hi, I have five cats, four of whom are normal or average in size and eating habits. One of my cats is just so fat; he is about ten months old and weighs more than six kilos - twice the weight of his sister and mum! He just seems to be ravenous all of the time. All food has to be hidden or locked in cupboards. He has been known to eat paper, salt and plastic. He loves any kind of bread, cake or biscuit. He has on several occasions managed to steal sachets of food and he will eat the foil packet as well as the contents. I feed him separate from the others and he does get very little but he makes up for this by stealing. He has to be put out of the room when the dog is being fed or we are eating as he will steal from our plates. He was one of just two kittens born to a very young mum and he has been greedy since day one. He was twice the size of his sister at birth and has continued along the same path ever since. When he was about four weeks old he started stealing his mum?s cat food. He fed almost constantly leaving his poor mum very run down and weak. I am at my wits end. He does have a liver complaint which was being treated with steroids for a while but he has recently been weaned off the medication. The vet just keeps telling me to feed him less but he really doesn't get a lot anyway. He growls when he is eating and snatches at his food like he is starving. I have been bitten
once or twice as I couldn't get my hand out of the way quick enough. Have you heard of anything like this before? Any suggestions? I wondered if cats got Prader-Willie syndrome? He is a very loving and sweet cat but turns into a monster as soon as he smells food. I look forward to your reply. Catriona
Hi
This does sound extreme and would indicate that either he has a behavioral issue (which i can't see way he would as he was not a stray and so food deprived) or he does have a condition.
Eating plastics etc could be an indication that he has a condition known as pica which does not have a treatment and just has to be managed (see this page for more on this
https://www.our-happy-cat.com/cat-eating-disorders.html
If I were you i would seek a second opinion from another vet. test may be able to be done to see if he has a hormone issue which is causing him to feel hungry all the time.
Some vets are more up on these things and only you as the cat owner are best placed to know when a behavior is more than just greed. Push the vet to work harder fro his dime. Sometimes more research on their behalf has to be done if they are not sure. I am luckily my own vet is very thorough and if he is not sure, researches.
It does seem that you are doing everything you can to stop him over eating and if this is not working then yes it needs further investigation. the aggression around food may also indicate a hormone problem possibly.
I hope you can find a answer to your problem soon
best wishes kate
---
I'd love to hear what you think of this page or my site. Let me know if you like what you have read or if it has helped you with a problem.
It's easy to do just leave a comment in the box below and click the like / share or +1 to let others know about my site. Thank You It really is most appreciated.