New Kitten Chewing On Tail
by Mandy
(Canada)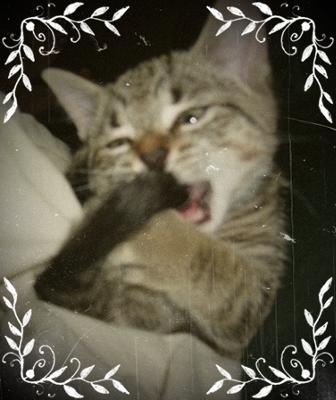 My husband and I just brought this new addition home two weeks ago. He was one of the kitten's in the second unexpected litter this man's cat had, had in a very short time, about two months apart I believe.


The transition to meeting my older cat Kittles, who is five years old was a bit rocky, but are now somewhat interacting with one another. Although my eldest cat is laid back and reserved, Widdles the new kitten is by far the most rambunctious hyper cat I have ever come across in my life! lol. He bites everything, playfully of course, but he jumps at my eldest cat and bites her. When me or my husband play with him he bites and scratches our hands. He is more reserved with me because I don't continue to play with him when he bites really hard.
He seems like a healthy kitten, but had had fleas when we first got him. He has had 4 flea baths since we brought him home because he kept scratching his ears and bitting his tail. We also had to give my eldest cat just as many baths because she too started scratching. She is an indoor cat, and has only ever had fleas when she was a kitten after attaining her from a family friend. I have cleaned everything top to bottom just had I did when I first got Kittles.
Except Widdles won't stop bitting, or Chewing on
his tail. My husband has made an issue out of it because he is the one who seems to witness this act more than myself. He looked up all sorts of stuff on the internet and claims it says cats who chew on their tail's could have a disease.
I don't know what it can be, whether the flea problem won't go away, or he may be unhealthy because the mother had kitten's too soon after the first litter? Or behavioral problems? Any help would be much appreciated!
Answer by Kate
Hi
my first bit of advice is to not to give too many flea baths for your kitten. baths are not very good for a cats skin or fur and fleas spot on treatments are the best way to keep your kitten flea free.
Kittens can be rather hyperactive so his behavior may just be down to youthful spirits.
as for the biting your hands etc, this is a bad habit for the kitten to get into and can become a problem as they get older. the best way to stop this is by using the cat positive and negative response techniques described here
https://www.our-happy-cat.com/cat-discipline.html
The tail biting issue is more of a difficult issue to diagnose. i have not come across this myself but i do know of other cat owners who have. i think I will leave this question open for others to answer as experience is in valuable.
best wishes Kate