Patsy and Stanley
Patsy and Stanley 
Patsy's goal in life is to find the perfect nap spot. I've found her dozing in the most unusual places. Recently, my daughter and I found her entwined in our back yard grapevine,sound asleep. Today we found her fast asleep with her nose in a book....literally! Fortunately, she's a laid back cat and a sound sleeper, so we can take many close ups without her waking. 
Sex: Female/Male
Age: 3 1/2 both
Lives in: USA
Their favourite food is: They love cat food....any type of cat food. While Stanley doesn't eat as much Patsy, he is fatter because his favorite past time is sleeping and looking out the living room window.
This is what they like doing the best: Patsy loves to scout out new nap spots in or outdoors and Stanley's perfectly content sleeping on the couch, or on my bed. He's even happier if I'm on the couch or in bed.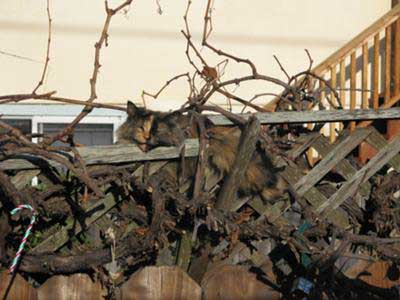 In their new home....
| | |
| --- | --- |
| I moved from southern California to the central coast and my cats went from being indoor city cats to outdoor beach cats. I tried to keep them indoor/patio cats, but their exit strategies were always one step ahead of me. | |
When Stanley met Patsy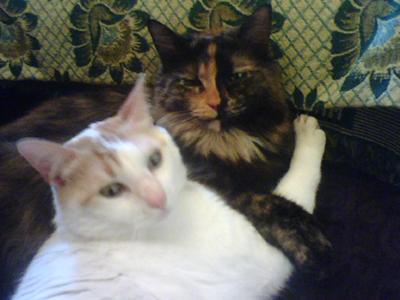 I adopted Patsy because I felt that my first cat, Stanley needed a Patsy. I adopted both of them through a cat rescue shelter. 

I was a first-time cat owner when I adopted Stanley (two months old) and at the time, wasn't sure I wanted a second cat. 

After a couple months, I felt for Stanley and wanted him to have a partner in cat crime while I was away. I called Pat, the owner of the shelter and told her that Stanley needed a partner. 

Just two weeks later, she called me and said she found a perfect Patsy for Stanley. She was right on!

I rushed to the shelter to see the kitten that Pat had chosen for Stanley and fell in love with her immediately, just as I did when meeting Stanley for the first time. 

There were so many adorable cats; I still wonder to this day how Pat new that this was Stanley's match. Also, Patsy's marking's were striking so there were many adopters who wanted her. 

Fortunately for Stanley and I, Pat knew what was best for Patsy. 

So, I brought Patsy home and within four days, I brought her back to Pat. I feared for her life. Stanley was so rough with her...he thought she was a toy! It wasn't that Stanley was jealous or threatened, he was just playful. He'd grab her by the neck and toss her around as if she were a stuffed animal. 

My daughter and I were horrified and I was convinced Stanley would accidentally kill her. Sadly, I thought it was best for Patsy if I gave her back. When I brought her to Pat and told her the news, she refused to take Patsy back! It's not that she couldn't find Patsy a home - there were families waiting in line to adopt her. Pat just knew that Patsy was Stanley's mate so she convinced me to give them two full weeks together. Fortunately for us all, it worked. Within a week, the nurturing side of Stanley took over and he became her protector.
White Cats can't jump..
About six months ago Stanley disappeared for a week. It turned out he was stuck in a neighbor's yard...right next door! 

It was a vacation home and apparently he snuck in just when the vacationers were leaving. Most cats would have jumped the fence, but not Stanley....he can't jump. He also doesn't meow, unless he's at the vets.

Fortunately, another neighbor spied him lurking in the yard from their upstairs window and once again, Stanley was rescued. 

Now Stanley, spends more time in front of the living room window watching passers by.
Boxed In
For Patsy, the challenge is whether she can think inside the box.

comment from kate

What is it about cats and boxes. they just love them, big or small. Sometimes i think we would all be better off not buying our cats soft bed but just get them a nice big cardboard box.

Cats can be so fickle :)
I heard it on the grapevine
Patsy viewing life from the grapevine.

comment from kate
Great viewpoint. My cats love to sit up high and look down on me too. I think it makes them feel in charge (which of course they are ).

Patsy the Literal Cat
She literally has her nose in the book!

comment from kate

Oh how cute. What a funny pace to rest your head kitty. Perhaps it smells nice, i must admit i like the smell of new books too :)
---
Top of this Patsy and Stanley Page
---
I'd love to hear what you think of this page or my site. Let me know if you like what you have read or if it has helped you with a problem.
It's easy to do just leave a comment in the box below and click the like / share or +1 to let others know about my site. Thank You It really is most appreciated.