Rainbow Bridge 
A Place Of Happiness For Your Cat
Rainbow bridge is a place where your cat plays and lives happily until you come to collect them.
If you or someone you know has recently suffered the loss of a pet then I hope that these words can help you take comfort in the knowledge that we all share and feel your pain at this sad time.

Take heart, the bond between us and our furry friends cannot be broken by death, it is just a temporary parting. I hope that this page can act as a lasting pet memorial for all our beloved cats and other animal friends. 
This is the story of the bridge
I know from personal experience that losing a cat from your life can be so painful. I remember really feeling a physical pain and looking for ways to be close to my cat again.
I found that reading stories and poems of how others coped with the loss and also words which were meant to bring comfort, really helped me. So I have included a few of these poems here for you too and hope that they bring you some comfort too.
Remember, It is only a temporary parting.
The Rainbow Bridge Story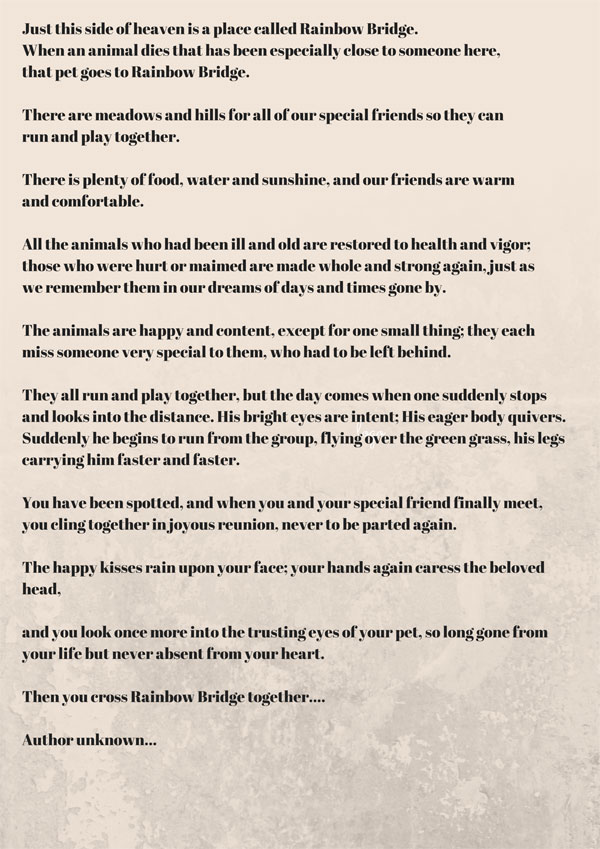 ---
More Pet Memorial Poems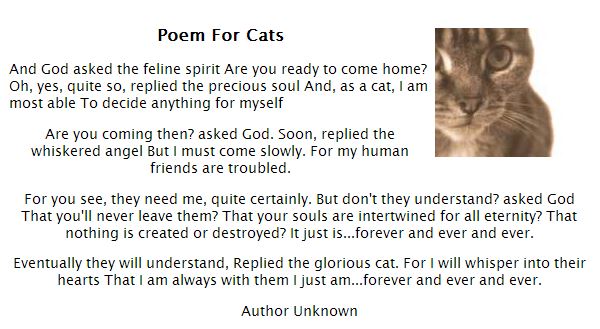 ---
A hard poem to read but one that really does help to make you strong when a difficult decision has to be made.
---
---
This next poem is all about remembering the good times with your cat and not dwelling on your loss.
I know that this helped me a lot and helped me to move forward and to give a good home to two more wonderful cat friends.
---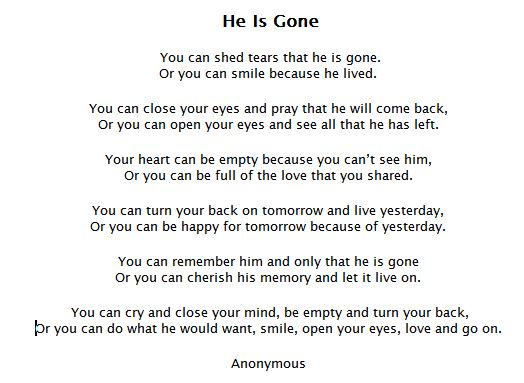 I hope these poems have given you some comfort and helped bring you some peace of mind. For more helpful information, I have some more pages that may also help you through this painful time. please read my other pages about pet memorials and coping with the loss of a pet.
The bridge is a place that I think of when I think about all the cats that have gone from my life. I like to think of them there, playing and feeling the sun on their backs. It brings me joy to think of them there waiting for me and that I will be able to walk across the bridge with them some day. Kate
---
More Pages
---
---
---
I'd love to hear what you think of this page or my site. Let me know if you like what you have read or if it has helped you with a problem.
It's easy to do just leave a comment in the box below and click the like / share or +1 to let others know about my site. Thank You It really is most appreciated.