Scared Savannah cat brothers
by Erika
(Canada)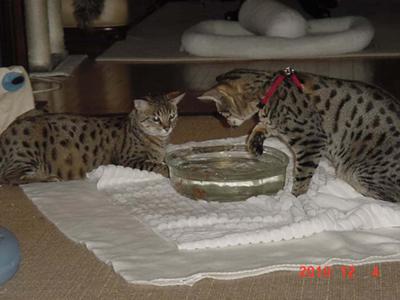 fishing
Hello


We have two Savannah cats (brothers)(F5)that are about 17 Months old and neutered. When we received them (by plane) from the breeder, they were very scared. They always do everything together and they love each other very much. If one is not around, the other one calls him... Skippy is the one which is the most loving towards us. He plunks himself down on the floor and wants his belly and back scratched but he does not want to be picked up. Snoopy on the other hand does not want to be touched, he stays about 3 feet away and watches everything. I have started to feed them between my legs so that Snoopy has to come near me. I have tried to start touching him while he is eating but he tries to get out of that as much as he can. Skippy is helping him to avoid by taking food from the bowl and putting it so that Snoopy does not have to come as near to me (smart, but not what is wanted!). Snoopy is wearing a harness and I have started to consider to simply put him on a leash so that he can't run away. But that seems to be a little drastic to me and I don't know if that would backfire and make him more scared than he already is. My suspicion is that this does not have much to do with the breed but that the breeder did not properly socialize them when they were kittens. If anything loud happens they run away, if anything drops down, they run away - and they are fast about it!! If people come to the house, they go into hiding or at the most, they walk by the
door and peek in to see what is going on. But they don't come in and join us, or play in the same room, or sit on our lap. They love to play together, race through the house after each other and get into mischief with each other! Is there anything, ANYTHING that I can do to get them to be less (a LOT less) scared... this is no way to live for Snoopy.. I think it is by now just a habit of his (there is nothing in our house that should scare him, it is a very quiet house without children or loud noises/music) and I don't know how to help him ... Should I start to play loud music/radio/TV when I go to work, to get them used to that? What else can I do?
Answer from Kate
Hi
You did not mention how long you have had them for. If it is still fairly recent ie a month or so then it is still very early yet for them to have relaxed.
I think you are right about the breeder not socializing them properly, this is one of the problems with some breeders i'm afraid.
they are still very young and so there is plenty of time to try and change their nervousness.
I have a web page with some more information about scared and nervous cats which you might find of further help etc here
https://www.our-happy-cat.com/scared-cat.html
Basically a combination of time, some distraction toys and some bonding will eventually help to ease their nervousness. However unfortunately they may never be the true social animals they could have been.
i also have a page about bonding with your cat which you may find of further interest
https://www.our-happy-cat.com/new-cat.html
best wishes Kate
---
I'd love to hear what you think of this page or my site. Let me know if you like what you have read or if it has helped you with a problem.
It's easy to do just leave a comment in the box below and click the like / share or +1 to let others know about my site. Thank You It really is most appreciated.