Sooty cat memorial
by Annette Glazebrook
(Benalla Victoria Aust)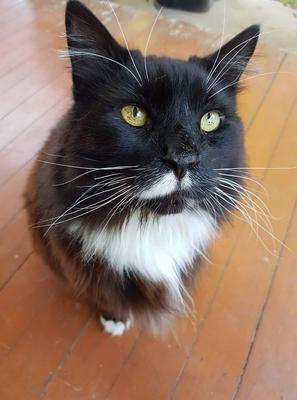 My man
Sooty was the man of my the house for 14 years and sadly passed away at home on Saturday. Sooty wasn't just a cat, he was my heart and soul, with so many unusual non cat traits. Sooty would go swimming in the pool with me, get in the shower with me, get in the car on his own accord and go to the shop or the dump.I'd have my dog out one window and sooty out the other. He wasn't just a cat - I think he thought he was human like us. 2 years ago sooty was diagnosed with diabetes, knowing I had to do what ever it took to make him better, I spend almost 9 grand getting the diabetes under control. Many would ask why, hes just cat, my response was always the same he's my sooty, Sooty dealt with ever visit to the vet and all the needles. He became a bit of a legend at the vets cause of his size. Sooty was 9.8kg when we moved from Darwin to Victoria and his first visit to the local vet they all comment on his weight.... Stacey our vet said gezzz he must be a fat cat as he reserved out of the pet pack cause he couldn't turn around in it. She starts to give him a once over and said he isn't fat at all he is just a big cat, I asked for that in writing as all my friends and family used to tease him for being FAT. Sooty even converted the non-cat people that would come over for a barbie, one friend said move ya cat as sooty sat on the table staring him eye to eye... by the end of that night sooty was sitting on his lap. Sooty lost his sight about 3 months ago and was still the same cat, vet told me to not change the furniture as he knows where things are. Sooty still managed to find my side of the bed every night and still manged to sleep snuggled in my long hair. He was the type of cat anyone could love. Sooty was such a much loved family member that I just cant seem to function without him. My days are so different now, I don't have to get out of bed at 7am to feed him and give him his injection, I don't have to make sure I have his special tin food, I don't have to do the kitty litter tray or make sure there are 3 or 4 water dishes around the house. I am struggling to deal with him gone. Yes I have my 2 daughters here, they are also upset at loosing sooty, but i don't think anyone understands just how much I cant handle not having him here.
---
I'd love to hear what you think of this page or my site. Let me know if you like what you have read or if it has helped you with a problem.
It's easy to do just leave a comment in the box below and click the like / share or +1 to let others know about my site. Thank You It really is most appreciated.