Stinky The Cat
Stinky the cat - My name is Joyce and this is Stinky..
Stinky is a male and is 2 years old. He lives with me in Greenville, USA.
His favourite food is: Fancy Feast Grilled

This is what I like doing the best:
chasing ice chips on kitchen floor
His funny habits are: oh yes, very smart-when i make coffee every morning he jumps up on the counter -rubs me- and watches our bed room door-if he hears my husband getting up he jumps through an open window above the sink which leads to utility room--because he knows my husband will chase him off the counter..its funny..thats just one thing --there are more for latter.

How I found my cat: From a friend of ours when he was only six weeks old..
Stinky - He is just an exceptional little Manx cat..he is lazy,loveable and has a sister cat,whose name is Fiesty, at feeding time he is always there first and i have to put Fiesty in different room so she can eat. but they both are adorable and lots of company to my husband and i.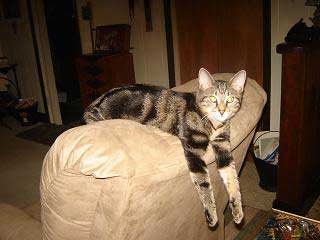 STINKY AND FIESTY
I sent a picture of Stinky and Fiesty to a friend of mine who adores cats as much as i do....this is what she did with my picture...I love it and going to print it out and frame it to hang..She did a wonderful job and I'm so proud of this i have it as a screen saver on my computer...

"HAPPY CAT TRAILS"
STINKY SLEEPING
| | |
| --- | --- |
| Ahh~~this is the life..just look at me! my mom gets on her computer every night and i just cant wait for her to sit down and put her feet up...thats when i get on her lap and really just sack out sleeping...i love her pink robe and the other night she just put it accross her legs and boy!!! what a nap i had,as she was very careful not to move around too much. Now i usually don't like my picture taken when i'm so sound asleep but she caught me this time...but i am so cute, don't you think? MEOW!! she just grabbed the camera and took my picture!! this was taken looking down at our feet...oh the way she loves me .... she carries me and puts me to bed every night..yep! you guessed it on the pink robe!! Me and my Sister Fiesty are very lucky kid-cats to have a mom like ours...Fiesty gets to sleeep on moms blanket every night and she also tucks her in and kisses us both goodnight!! | |
Stinky upstairs
| | |
| --- | --- |
| we have a rack in our kitchen and it is big--i hang all my gadgets on it--so this is where Stinky is--i was standing right under him and he was laying on the rack--my husband built a set of stairs for the kid-cats to go upstairs as i call it--that is where they go to hide out from kids and to just have a nice quite place to lay..from there they can also get on top of my cabinets.. | |
Stinky
| | |
| --- | --- |
| This is the second picture of my Stinky the cat I've put in here--before he was quite young and as of now he will soon be two years old...he and his Sister Fiesty are still with us....but Mr. Stinky is the "boss" ...Fiesty takes a back seat to him. here is a picture i entered of him to the "old Farmers Almanac" -to my surprise they made a e-card of him with this picture. they are both very special but Stinky will pose for you and really ham it up. he expects me to tuck him into bed every night on my robe. | |
Stinky The Cat Loves Baskets!!
| | |
| --- | --- |
| i have a couple of baskets in different rooms as well as a "cat house" for Stinky and Fiesty...they both love the baskets but Stinky being my show off posed for this picture. | |
---
Top of this Stinky the Cat Page
---
I'd love to hear what you think of this page or my site. Let me know if you like what you have read or if it has helped you with a problem.
It's easy to do just leave a comment in the box below and click the like / share or +1 to let others know about my site. Thank You It really is most appreciated.