Tigger losing weight and always hungry!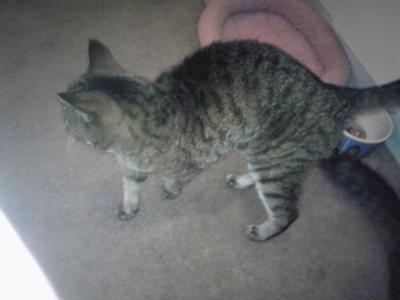 Tigger today 10/10
My male cat of about 16 years has lost about 15 pounds in the last year. He has had blood work done twice (kidney, thyroid etc.)with no negative results. He is constantly hungry and is now down to 5 lbs of skin and bones. His canned food is reasonably healthy with lots of protein, omegas, vitamins and minerals. He doesn't appear to have any other health issues except for infrequent vomiting of clear-ish fluids. It would be hugely expensive to do an ultrasound etc. and if he does have a mass, I will not treat him with chemicals like chemo. It may be that he has cancer but whatever the issue, I would like to know if there is anything I can do naturally/holistically to care of him.


Thanks very much for any input.
Answer by KAte
Hi
Sadly at his age he may well have something like cancer which could be the cause of his weight loss. At least you know he is clear from the other possible causes of weight loss. His symptoms are very similar to thyroid problems, losing weight but very hungry all the time, so i am amazed that his blood work has not shown up anything.
However it is difficult to know how to treat if you dont know the exact cause. if it is cancer then I dont think there is much you can do for them naturally.
All you can do is to continue to feed a high quality food for him and perhaps give him some supplements to help keep his strength up etc.
https://www.our-happy-cat.com/cat-supplements.html
The important thing is to make sure he is not suffering, which if you think he may be, you may have to make some hard decisions for him.
best wishes Kate
---
I'd love to hear what you think of this page or my site. Let me know if you like what you have read or if it has helped you with a problem.
It's easy to do just leave a comment in the box below and click the like / share or +1 to let others know about my site. Thank You It really is most appreciated.