Tutti - A Cat Rescue Story
by tauqir
(Saudi arabia)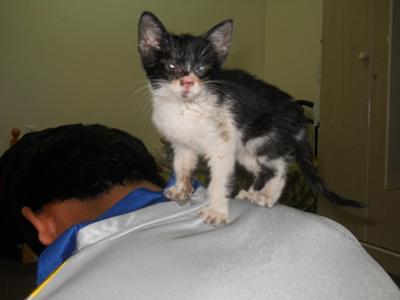 Tutti the rescue kitten
This February,during the winter in Saudi Arabia an extremely tiny,weak and to be frank quite pathetic looking kitten followed my brother home. She looked so helpless that we couldn't help ourselves but try to take care of her. Her eyes were glued shut due to severe infection,she had a wound on one of her nostrils and she looked quite the worse for wear.To top it off she had bloody diarrhea as well.We didn't think she would make it past one day max but due to lack of other options we started looking after her.


First things first she needed a bath.She instinctively went and splayed across any exposed part of our body(for heat i guess) so she promptly was climbing our legs and arms and curling up and falling asleep around our necks literally!.We got her a well ventilated and towel padded cartoon and put it in front of heater and man was she in heaven!
We had never come across any kitten as friendly as her.My sister decided to call her Tutti(cuz everyones name in my family starts with the letter T) .Convincing dad(who was not an animal person at all)to let us keep her at least until she was strong enough to fend for herself was a little difficult but a little girl's pleading can melt any mans heart,let alone her own fathers.
With God's grace and a lot of love and care(feeding through a syringe,eye drops)she came around and started getting some life into her limbs.By this time she had already won over our dad's heart(he is the first one to wake up everyday and hence,ironically,the one tutti comes running to,to be fed).Now she forms a much loved member of the family
---
I'd love to hear what you think of this page or my site. Let me know if you like what you have read or if it has helped you with a problem.
It's easy to do just leave a comment in the box below and click the like / share or +1 to let others know about my site. Thank You It really is most appreciated.