Two Cats Vomiting
by Thalia Fanel
(Mexico)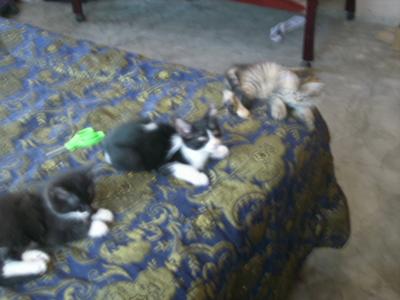 Romeo Chito and Malice our cats
A very common question from what i can see, i have 3 cats 2 males (the black one and the black one with white the other is the siser) who are brothers both and about a year and 2 months. And i have their mother who is one year and 10 months, she had 3 kittens (which are them and their sister who was given away) at around 8 months of age; she had no problems giving birth and was a good mother to them.


The problem is that about 1 day ago they came from a neighbor's house (where the brothers go to play with another female cat)and in the morning they came and threw up ALL of the food that they had eaten this included some milk and wiscas, the brand of food we give them, it was a pretty big pile. Since then they have thrown up 3 times but not continually just the two boys since the mom never leaves the house except to go to the bathroom.
The one suspicion i can come up with is that my little siblings spilled some yogurt on the floor and that they might have drinken some while i was getting the mop. Usually the youngest is always meowing and is never quiet, especially around lunch time since they like to eat with us, he has been quiet these past two days as for his older brother he just seems a little more tired.
This afternoon they threw up some of the milk they had drunk and it looked like a little blood but not that much. Right now the cats have returned a little to normal they ate some of the dry food and the youngest has started meowing a little more. but i am still worried. i
live in a town with no veternarians and i have no idea where to take them it looks like they are back to normal but i am still a little worried; what can i do?
i reduced the amount of food a little and am watching them closely, they have been loosing a lot of weight recently and it's summer so it's really hot but they don't like drinking water... What can i do???
Sincerly,
a very worried cat-mommy,
Thalia Fanel
Reply
Hi
yes it does sound like they may have eaten something bad as both of your male cats are vomiting. the trouble is knowing whether it is something which has simply upset their tummies and will pass in a few days or whether they have eaten something poisonous which may have caused internal damage.
Without a vet in town it is difficult to advise you further. You seem to be doing everything you can can for your cats i.e keep their diet plain and simple and small amounts and also to try and encourage them to drink water to keep them hydrated.
There are some plants etc in gardens which can be harmful to cats as well as chemicals that people keep in their sheds etc. You it is a good idea to take a look round to make sure there are no spilled chemicals on the ground of possible poisonous plants in your garden which your cats may have munched on. Try to keep your cats in for a few days to see if they improve .
I have a page about some possible causes of cat poisoning which you may find of further interest here
https://www.our-happy-cat.com/toxic-plants.html
Hopefully in another day or so your cats will have recovered. It may simply be a upset tummy.
best wishes kate