Watermelon The Cat
Watermelon the cat - My name is Barbara and this is all about my cat. 
About Watermelon:
He is 7 years old and live in Los Angeles, United States
His favourite food is: Dry food and any chicken or beef wet.
This is what he likes doing the best: We're just getting to know him right now, he's adjusting to being an inside cat but he does like his sock-it-to-me filled with catnip.
His funny habits are: When he drinks water he puts his Left arm in the bowl and swishes the water around before drinking. He makes a BIG mess but we don't care (smile).

How I found my cat: "The Watermelon Man"
This is my story. I was a happy boy, a 7 year old red & white cat, named Watermelon. I lived in a beautiful home with loving parents until one day they put me in a box and took me to a very strange place with strange smells and sounds. I was scared and confused. What had I done to be left at this huge place that didn't look like my home? I was quiet, my heart was breaking, my soul was taken that day but little did I know, only temporarily.
I was put in a small cage and left to think about why I was there and if anyone would ever come for me, it was the saddest day of my life. I was freezing, it was cold from the air conditioning that ran all day and night long with nothing to cover me except for the sadness my entire being felt. I laid my head low and silently I wept for my owners who abandoned me. Whatever their reason was, they never told me or even prepared me for what was to come. I became ill with the upper respiratory illness that cats and dogs get in a shelter when left to wonder WHY ME? I was just another number.
Then a few days later after the shelter posted my picture, someone came to see if I was their lost cat Benny who I was told later that I looked exactly like. I wasn't their Benny though I wanted to be just to get out of the tiny cage and away from the scared crying pets that were all around me. Their cries were easy to distinguish; the tiny babies whimpered, the lost pets howled and the old guys were so tired of crying their barks were low and beaten. It was all too much to bear. I wanted to be anyone other than Watermelon. But I was Watermelon waiting for my mommy to come back to take me home. She forgot about me, she must have had a really good reason to leave me. I still think of her; we were together a long time.
It didn't take me long to understand that I was on my own. Whenever anyone walked by my cage, I looked up to see if it was my family who might have just put me there until they could work things out, but it never was my family. They never came back for me. I couldn't eat, I couldn't sleep. It was terrible being in that cage when all I thought about was my home, the grass I played in, the good food I ate, my favorite spot on mommy's bed…OH, I was SO sad. I started to forget I was Watermelon.
But one day the lady named Tracy came back a second time to look for her cat Benny and they showed me to her again in hopes that she might give me the home I needed. She saw how sad I was and decided that she would take me home. And, she took me out of that cage and home with her. But again, it wasn't what I hoped for. I was in a new home which was quite chaotic and now I was very ill with the cold I caught while lying in my cage.
Then after a few days there, her back door was open and I ran out along with her other cats that paid me NO attention at all. I tried following them but they ran from me. Now I was really lost in a new neighborhood, sneezing day and night coupled with a high fever I wasn't sure I would make it. I saw an opening under the house next door and I ran under the house. I stayed there a few days and nights, I was shivering and cold. I came out only to run back under the house when anyone came. At least I felt safe under the house.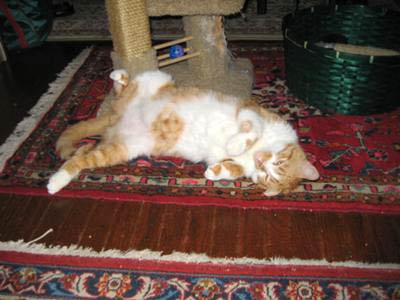 Then the strangest thing happened to me. I heard my name being called one night at dusk. Is it a dream or did someone call my name? I'm hungry and the voice was lovely so I peaked out from under the house and there she was, my new Mommy. She knew my name as she had visited me next door before I ran out. At first I was too scared to come out from under the house. Everyone had given up on me. It was a sad time in my 7 years of life. I was alone. The other outside cats beat up on me because they could feel my sadness and my illness. I didn't care, let them kill me, life was bad for me. I was a loner anyways.
But the new kind lady called my name morning and night and she brought me food by the opening where I felt safe to run in. She talked to me and asked me to visit her on her back porch. I was too shy at first. I didn't trust anyone but she didn't give up on me and slowly I started to come around. She made me well by giving me heavy doses of medication in wet food. Then as I got closer and closer to her back door, she started to sing to me "You're my Watermelon Man". I knew she was saying my name. I always loved my name but no one ever sang to me, it sounded nice. I let her pet me and pick me up. She was very gentle with me.
Then one day she picked me up and she took me inside her home. I was leery, wondering what's next, but I decided life was so bad on the streets I would give her a chance. She put me in another box and then into her car. That was scary too. Where was she taking me now? Please don't take me back to that cold shelter, not to that tiny cage where I could hardly breathe. My ride ended at the vet and I was left again. But she told me "I promise I will be back for you my Watermelon Man. I hung my head down low and silently wept. I didn't believe her. But she came back for me, and I was all clean. Her vet had bathed me, cleaned my dirty ears, and he poked me a lot too. I was so happy to see this nice lady had come back for me and I told her so when we got into her car. I cried ever so lightly as she spoke to me. She kept saying we're almost home, we're almost home.
My life changed that day. I am a lucky Watermelon Man, I have someone who loves me and will never give me away ever again. Never. She lets me sleep with her, didn't punish me when I made bad mistakes, kept telling me how much I am loved and made sure the other cats in our family treated me with love and respect. Still for several months I felt SAD, I was afraid to give my love and have it taken away. But my new mommy wouldn't give up she kept loving on me, socializing me, talking to me, brushing me (that was new) and she even kisses on me every day to let me know how much she loves me. She made me a sock-it-to-me filled with my favorite thing, catnip, that was new too. She did everything right and now I am not lonely, not sad anymore. I just hope I will never leave my new family.
I'm happy. I don't ever care to go back outside, but I do enjoy sitting in the windows looking at the outside birds with my new furry brother & sister. And, I have gotten even with the outside cats that beat up on me by charging my mommy's screen door when any of them come to the door to look for food. I tell them – "this is my home now, go way". But since my mommy is loving with the outside cats, I have learned to forgive them and let them hang outside my back door and visit with me. Now I belong. Now I have a home that will always be my home. I'm a lucky boy.
And guess what? My new forever mommy is Barbara Leigh she used to be an actress and model. And my brother Imhotep and sister Isis are celebrity felines too, they have both won several cat contests, they are Devon Rex's. And I, well I am their Watermelon Man. Thanks for listening to my story.
WATERMELON'S GIFT 
by: Gloria Wolper
I am writing this with tears in my eyes! Especially at this time of year when we are gathering with loved ones to celebrate Thanksgiving! Watermelon was so blessed to find a kind and loving new Mommy - a Mommy who believed in him and encouraged him to be all that he could be! Watermelon knew that this was his chance to be safe in a beautiful home filled with love and with new step-siblings to play with! Now, not only was his stomach full but his heart was overflowing! Watermelon learned to be forgiving of those cats that brought him such misery! He learned the joy of giving!
We all will be giving thanks tomorrow around our dinner tables and wishing all of God's blessings to each and every one of God's creatures! Watermelon the cat has taught us so much This is a wonderful story!!
---
Top of this Watermelon the Cat Page
---
I'd love to hear what you think of this page or my site. Let me know if you like what you have read or if it has helped you with a problem.
It's easy to do just leave a comment in the box below and click the like / share or +1 to let others know about my site. Thank You It really is most appreciated.