Why does he cry all the time!!!!???
by Carol
(Austin Texas)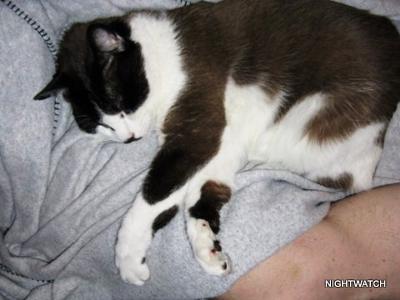 We have a ragdoll that is 12 and last year we lost our other sweet one at the age of 14 and he saw the stroke and all!


I think he knew when I dame home and told him! Now since then all he does is cry cry cry and just vocalize. He wants constant attention, picky eater, just hard to be with yet very sweet and I feel bad just saying this. He does not know and he is just sweet and needy but it is driving us crazy! I d not know what to do!
Nothing makes him happy and if he is up then he thinks the whole house should be too and I am the one he really clings too. He started to pick at her towards her older age and I think now he knows what he had!
Should I get another one at a younger age or older or will that cause more frustration, insecurity, we left him and on and on. He has never been outside at all! We have never even left them by themselves but once a long time ago so they definitely ruled!
This crying is out of control though and we are losing sleep and he wakes you up, and he is just a little hitler control freak but with good intentions!!
I guess he misses her and does not have an idea of timr ot how long it has been but it it taking its toll on us an we are at a loss of words. We tied burning lavendar then that quit so now what do we do???
I am sure his health is good but even if not would not take to a traditional place. I
am ill and can he pick that up so the routine changes drastically every two weeks when I sleep more but he usually loves it cuz then he has me full time!
Carol
Answer by Kate
Hi well cats do grieve for a period of time when a cat companion passes away
https://www.our-happy-cat.com/cat-grief.html
However i feel that this excessive crying is because he has learned that when he cries he gets a reaction from you. as dont do things like this for spite etc but always for a reaction of one sort or another, food, play etc.
Often getting another cat is not the answer as there is no guarantee that your cat will get along with them.
I suggest and i know it will be hard but you have to teach him that when he cries he doesn't always get what he wants. This way he will stop crying so often. ITs not cruel but you are teaching them.
Play a game with them before bedtime, then feel them a meal just before you go to bed and then place him in a room with his bed, toys, litter and water over night. Keep to this routine and he will soon get used to it and adjust his behavior accordingly.
If he cries during the day excessively then you will have to learn to not give in to him when he cries and give him treats when he does not cry. Again he will learn that crying does not get him anything.
The only other option you have is to have him checked out by a vet in case he is suffering from age related problems such as bad eye sight which can also cause excessive crying
https://www.our-happy-cat.com/senior-cat.html
best wishes Kate