My Cat Is Doing An Odd Chewing Motion With Nothing In His Mouth
Question : My Cat Is Doing An Odd Chewing Motion With Nothing In His Mouth by Cheryl (Minneapolis, MN)
My kitty (12-years old) has been to see several vets, (emergency, my regular vet, and the animal hospital at the University) due to weight loss, loss of appetite, projectile vomiting, and lethargy.
They took several xrays and did quite a bit of blood work, put him on an IV drip for nausea, etc., but never fully diagnosed the problem. They say it could be (or may have been) a foreign object that caused this issue. 
Now we are on a watch and see to see how he's doing and the next step may be an ultrasound if he seems to get sick again. He seemed to get much better for about 8 days, but then vomited again once although it wasn't projectile vomiting. He's gotten very picky about his food, but is eating.
I brought him back for follow-up blood work yesterday and his red blood-cell count was back in the normal range (he had tarry stools for a short while and was a bit anemic). If he appears to get sick again I will bring him in for an ultrasound and hope they find the problem - needless to say I am very concerned.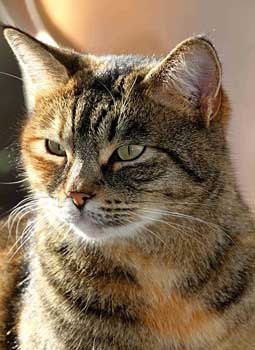 He's older but not old and has never been sick before - he was born in my house and I actually was there for the whole pregnancy and birth...
My question is he has started doing an odd chewing without anything in his mouth. He stopped for several days (at least inmy presence) but has now started again. At first I thought it was fighting back vomit, but the vet did see him do it and said it was more of a chewing motion.
Does anyone know what this could be or does anyone's cats do this? Clearly I'm extra sensitive right now and want to be very careful to take the best care of him.
Thank you so much for your help!
Answer by Kate
Hi I feel for you, it must be terrible not knowing what the problem is with your cat. My vet has said that in the past he has had some odd cases that took him some time to discover the real cause. One of which was a very fine line of cotton wrapped around the underneath of a cats tongue and down the back of the throat. He didn't see it for ages but now always checks. Perhaps ask your vet to check under his tongue to see if there is anything caught there.

Also if your cat is wearing a cat flea collar I would remove it as i have heard of cases of cats getting very sick because of these. Spot on treatments are so much more effective and safer for your cat.

Also perhaps change his cat food to a better brand just in case the particular brand he is eating has something which is upsetting him.

Apart from all of that I can't advise further. i really hope he recovers soon.

Perhaps some of my other visitors will have some suggestions for you.
Comments
odd chewing motion - mine too ! by: Anonymous 

My cat was doing this all the time and learned to do it to get me out of bed in the morning to feed him. But I hated the sound it made and took him to the vet.
The vet said that when cats eat dry food it helps "brush" their teeth and can help control tarter build-up. Since my cat was a canned food only cat his gums had gotten kinda swollen and the vet said the chewing thing he was doing was probably because it felt like something was stuck in his teeth.
But there wasn't and after we had the cats teeth cleaned he stopped doing it and I make sure he gets dry food as a treat occasionally to help clean his teeth.
My cat biggie by: Anonymous 

Hello we also have a cat that we brought into our home 2010 at Christmas our cat has gotten very I'll had him at the vet hospital for 2 days then at his vet he was 19 pounds and now hi is at 16 PDS.
BIggie had Chris not sure about spelling any how he was still sick after 2 more trips at vets office they kept him watched him and he was chewing as if chewing gum but nothing ,they said he was having seizures put him on phenabarbatrol doing great he's 6 estimate hoping this will solve the problem.
Best of luck to you all hope this could help someone else.
Chewing but no food in mouth by: Anonymous 

I'm having the same problem with my 7 year old male. it started about a week ago. At first he wasn't eating but moved his head from side to side and acted like he was eating. He went to the vet on Wednesday and his teeth and gums showed no problems.
The vet seen him shake his head and checked his ears, found a little fluid in his left ear, he put him on antibiotics and ear drops. But he is still making mouth movements as if he is eating when he is not. Anybody have any thoughts?
Strange chewing motion in cats by: Steven 

My cat does this strange chewing motion with nothing in her mouth. She seems to be chewing as if something were on the right side. Very puzzling.
Same thing by: Anonymous 

My cat has all these same symptoms. Did you ever find out what the reason was???

My cat too. by: Anonymous 

My cat is doing the same chewing motion with nothing in her mouth and I don't know what is going on. Anybody found what was the reason in your cats? 

Reply 
Depends when they are doing it really. Cats do display strange chewing and clicking motions when they are looking at birds etc. See the page about cat sounds for more on this. Kate
hi help by: Anonymous 

Did you ever found out what was wrong with yuor cat, my cat is having the same problem...thanks!
Very ill cat by: Anonymous 

My cat has much of the same symptoms as you have described. He is in the hospital as I type. Did you ever find out what the issues were and the weird chewing motion? 
Thanks
---
I'd love to hear what you think of this page or my site. Let me know if you like what you have read or if it has helped you with a problem.
It's easy to do just leave a comment in the box below and click the like / share or +1 to let others know about my site. Thank You It really is most appreciated.