The Benefits of Organic Cat Food?
A Healthy and Happy Cat! 
Making the switch to organic cat food is a choice that many people are making these days. 
But why choose organic?
Because by doing so, you will be choosing a product which is free from:

Artificial Additives,
Pesticides, 
Chemical Fertilizers, 
Genetically Modified Ingredients.
You will also be choosing cat food that is full of natural goodness such as vitamins and minerals.
These are essential for good cat nutrition and long term cat health.
Organic food may cost a little more, but when you think of all the extra work and care that is taken to make sure that the food is as natural as possible, I think you will agree that it's worth it.
Many of us choose organic food for ourselves, so why not for our cats?
---
The Top 5 Benefits of Organic Cat Food
1. Reduction of skin ailments and allergies
Many cats suffer from irritating skin conditions or allergies and many of these allergies may be caused by artificial chemicals in the food. Because organic food is free from artificial colours, flavours and pesticides, you will be taking these out of your pet's diet. Also the quality of the food provides good cat nutrition which will support your pet's immune system.
2. More energy and a healthy weight
Organic food is naturally more nutritious and doesn't contain bulk filler, so cats will often eat less than normal commercial food, which helps ensure they only eat the food they actually need and do not become fat cats.
The food probably tastes better to your cat as well as it is made from only the best natural ingredients. As with all of us when we are eating a well balanced and nutritious diet, we have more energy and this applies to your cat as well.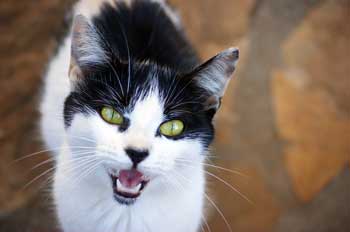 3. Better digestive order
You may have noticed your cat vomiting or having diarrhea after a meal. This is probably because they have been unable to digest the food properly. However organic cat food contains easily digestible whole grains and quality meat. Your cat will be happier with less belly aches.
Because the organic food is more digestible, your pet will be able to absorb more of the nutrients which will boost their immune system, helping prevent many illnesses and those nasty and expensive vet visits.
A healthier cat will lead a better quality of life and be full of vitality. After all, we want our furry friend to be with us as long as possible and to lead their life as a healthy and happy cat!
As you can see, feeding your pet organic cat food has many benefits. Feeding them natural food will help ensure good cat health and give you peace of mind. It might even help reduce your chances of being faced with some expensive vet bills in the future!
Buy Natural Cat Food Online
Here are four organic cat foods that I found which are top quality and are free from all those artificial pesticides, herbicides and other additives: 
Organix Grain Free Organic Healthy Adult Indoor Cat Food

Grain Free - Some cats can react badly to grain and many commercial brands of cat food contain grain in their ingredients. 

Low Calorie - This food is also good for cats who lead a less active lifestyle. Meaning that they don't pile on the calories but still get a tasty healthy meal.

Added Fiber - great for helping cats get rid of hairballs through their system
Other Kitty Food Options
---
Top of this Organic Cat Food Page
---
I'd love to hear what you think of this page or my site. Let me know if you like what you have read or if it has helped you with a problem.
It's easy to do just leave a comment in the box below and click the like / share or +1 to let others know about my site. Thank You It really is most appreciated.