Cat Treats
For a Healthy and Happy Cat
Okay, so we all know we can just buy some cat treats down at our local supermarket. But do you ever wonder if there is something a little more special for the feline friend in your life? 
This is what I was wondering when my boys Byron and Shelley seemed to have gotten a bit bored with their regular cat food and treats. So I've had a look around the web and found a few that really stand out from the crowd. 
And if you are going to be giving your kitty something special, why not make it something that will do them some good at the same time and buy them some healthy treats!
On this page you will also find healthy treats that are designed to help with hairball control, and help maintain good teeth condition. This way you can have a healthy and a happy cat at the same time!
You will even find details of a great ebook containing some fun cat treat recipes if you want to make your own for your special feline friend.
Don't forget – kitty treats are not meant to replace your feline's regular cat food. Some treats are high in calories so if you find that you are treating your cat on a regular basis, then they well start to develop a problem with their weight. And as we all know, being overweight can lead to all sorts of other health problems. So we don't want to go down that road!
Great Cat Treats
---
---
---
Homemade Treat Recipes For Your Cat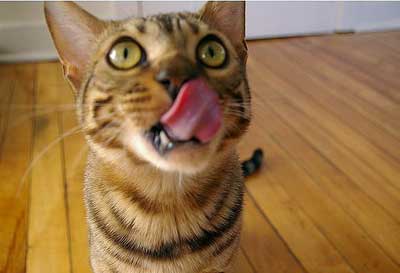 Have you thought of making your own cat food and healthy treats as way to give your happy cat something really unique and special? You can find here a special ebook containing 100 Homemade Cat Food and Treat Recipes such as Cat Cookies, Fabulous Fishballs and Kitty Tacos!
YUM!
Other Cat Food Pages
---
---
I'd love to hear what you think of this page or my site. Let me know if you like what you have read or if it has helped you with a problem.
It's easy to do just leave a comment in the box below and click the like / share or +1 to let others know about my site. Thank You It really is most appreciated.