Natural Cat Food
What Food Would Your Cat Choose?
Healthy, natural cat food is something that many of us wish to give our feline companions.
As a caring cat owner, you will no doubt want to make sure that the food you give to your cats is of the best quality and will not harm them in any way.
You will also want to know for sure that your beloved feline friend is getting all the essential nutrition that they need to keep them healthy and happy. 
---
Why is Choosing Healthy, Natural Cat Food Important?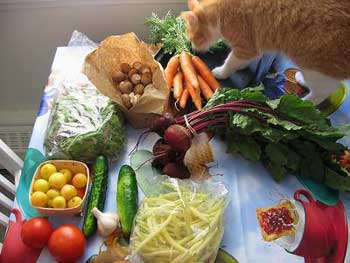 In the past few years there have been some terrible stories in the press of cats being poisoned by some brands of food! Even though this is a very rare occurrence, many cat owners have decided that in future they only want to feed their cats with food that is as natural as possible.
When I adopted my two cats Byron and Shelley, I spent some time talking to the RSPCA (Royal Society for the Prevention of Cruelty to Animals) about what sort of healthy cat food they would recommend.
They really did open my eyes to the fact that many of the popular brands sitting on the supermarket shelves contain a lot of ash to bulk the food out. This means that the food may fill your cat up but it might not be as good nutritionally as it could be.
The Best Natural Commercially Available Food
There a few companies out there who produce natural cat food commercially. I have chosen a few of the best ones I find most beneficial to our cats health and that I know my cats would love to eat.
---
---
---
A Cat's Natural Diet
Feeding your kitty with a more natural cat food diet can also involve giving them more variety as well!
This is because in the wild, a cat would not feed only on one type of food (ex, all fish, all rodents or all poultry). Although they only eat meat, they would still seek out a variety of different types of meat.
This is for several reasons. Nutritionally they need a balanced diet, but they would also not want to rely solely on one type of food, in case a sudden shortage of that type occurred in the wild.
So you may notice that your cat will go off their usual brand or flavour of food from time to time. This is not necessarily because they are fussy eaters, but is due to this natural instinct for food variety.
So it is always a good idea to give your cat something different from time to time (but not too often as this can upset their digestive systems!)
Choosing a high quality natural cat food can be quite easy. Have a good look around Only Natural Pet Store and see all the chemical-free brands of food that are available. Make sure you choose a type that is nutritionally complete and is suited to your kitty's age and health needs.
Oh, and don't forget to make sure there is always plenty of fresh, clean water available for them to drink as well!
Read more about your cat's dietary needs on my cat nutrition pages.
Other Cat Food Choices
---
Top of this Natural Cat Food page
---
I'd love to hear what you think of this page or my site. Let me know if you like what you have read or if it has helped you with a problem.
It's easy to do just leave a comment in the box below and click the like / share or +1 to let others know about my site. Thank You It really is most appreciated.