The Ragdoll Cat Breed
The Cat That Goes Limp
The Ragdoll Cat Breed has a rather unusual trait of going limp when picked up and having a very docile nature. 
It is not sure why this happens but there is a rather unlikely story that the breed inherited this characteristic from a cat called Josephine who was injured in a car accident, which caused her to limp when carried.
However it is far more likely that the characteristic is a happy mixture of genes, causing the cat to be more docile than others.
The Ragdoll breed is relatively new breed and was first created in California in 1963.
Although there are no accurate records of the breeds involved to create this delightful cat, the Birman and Burmese gene is evident.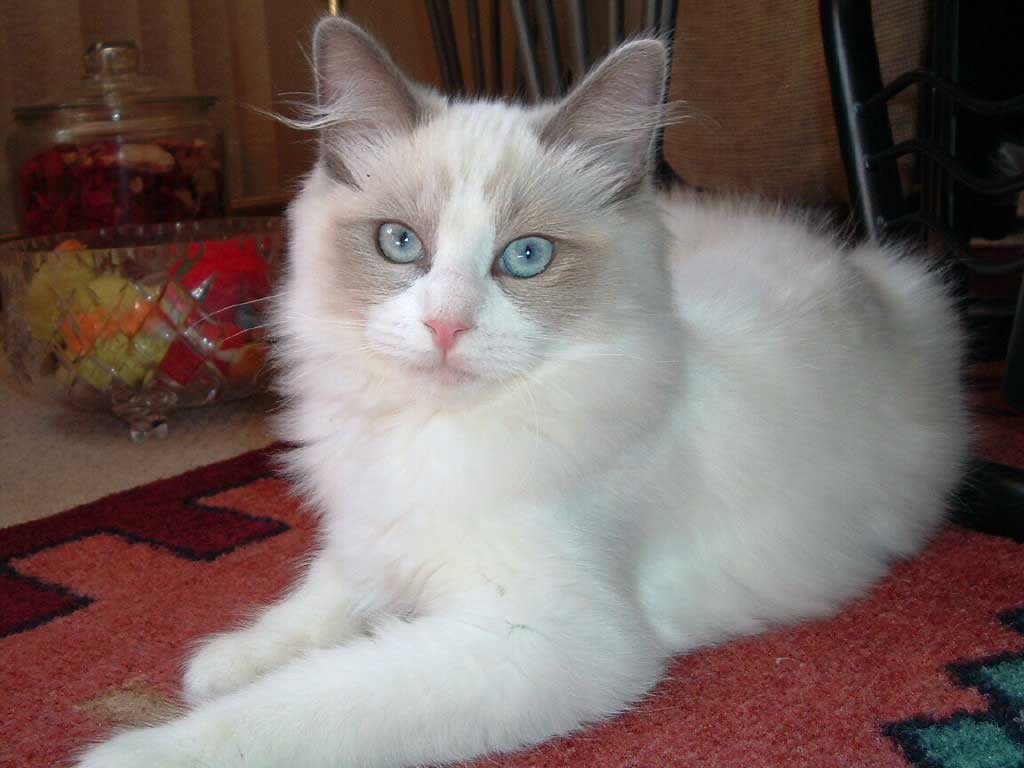 Colour Variations
The cat has a stocky build and has large round paws and a long bushy tail. There are three main colour groups:

Colourpoint - Light body colour with dark brown points on feet ears and face.

Mitted - has colourpoint features with a contrasting pale body and white gloved front feet and rear legs.

Bi-colour - White on the chin, bib and chest and has a triangular blaze over its nose.
Breed Characteristics
Coat: The breed has a dense and silky coat of medium length.

Eyes: The eyes are small, round and slanted. They are deep blue in colour.

Grooming: The Ragdoll breed does not require very much grooming to keep its coat in top condition. It is recommended that a light daily brushing with a soft brush is all that is needed.
Ragdoll Cat Temperament
| | |
| --- | --- |
| | This cat breed is a very laid back cat and is known for their docile and friendly manner. They are easy to handle and is generally happy to be picked up. They do however like calm environments rather than a busy home and so would suit a quieter home.  |
---
---
I'd love to hear what you think of this page or my site. Let me know if you like what you have read or if it has helped you with a problem.
It's easy to do just leave a comment in the box below and click the like / share or +1 to let others know about my site. Thank You It really is most appreciated.