The Scottish Fold Cat
The Cat With The Folded Ears
The Scottish Fold cat is a relatively new breed; the first instance of a cat with folded ears was in 1962. 
The story goes that a farmer came across a cat in Scotland who had folded over ears, a year later the cat gave birth to a litter that also had folded over ears.
The cause of the folded over ears has only recently been discovered and it is unfortunately caused by a gene which can also cause skeletal problems.
---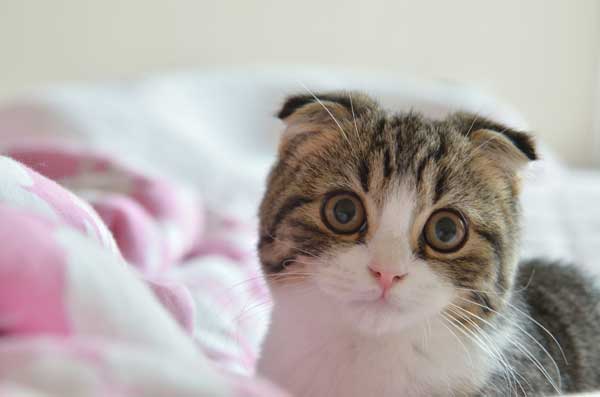 Because of this the breed has been resisted in the Cat Fancy organisations in the United Kingdom.
The breed is found with a range of coat patterns and may be long or shorthaired.
The cat is of medium build and has a round head on a short neck.
It also has short legs but despite this is still a very active cat
Breed Characteristics
Coat

The coat is very dense and plush, this is probably due to the cold weather conditions found in the Scottish region most of the year.


Eyes

They have wide set eyes which are large and round.

Grooming

The coat is relatively easy to maintain and will not require brushing too often. However it is important to regularly check the inside of the ears, as dirt can become trapped inside due to the folded earlobe.
Scottish Fold Cat Temperament
This cat breed has both the British shorthair and Persian cat breeds within its bloodline and so like them has a very confident and independent nature. It is generally very placid but is also a very loving cat and would fit happily into a family atmosphere. 
---
---
I'd love to hear what you think of this page or my site. Let me know if you like what you have read or if it has helped you with a problem.
It's easy to do just leave a comment in the box below and click the like / share or +1 to let others know about my site. Thank You It really is most appreciated.